Guangzhou Airport to Guangzhou South
How to Get from Baiyun Airport to Guangzhou South Train Station
As Guangzhou Baiyun International Airport (CAN Airport)is located in north part of Guangzhou and the high speed train station – Guangzhou South Railway Station is located in the south of Guangzhou, it is very far to travel from Baiyun Airport to Guangzhou South Railway Station. The distance between them is around 60 kilometers. Currently, the most-used way to travel between Guangzhou Baiyun Airport and Guangzhou South is by subway or taxi.
How far is Baiyun Airport from South Train Station: the distance is about 60 kilometers.
By Metro
It requires you to make a transfer when travelling by metro between Guangzhou Airport and Guangzhou South Railway Station, which takes about 1 hour and 20 minutes (for reference), and the ticket fare is about 10 yuan per person.
From Guangzhou South Station to Guangzhou Airport: Take metro line 2 from Guangzhou South Railway Station to Jiahewanggang metro station (嘉禾望岗, 24 stops, 52 minutes, CNY7) first, then change to the northern extension line of metro line 3 to Airport South Station (for Terminal 1) or Airport North Station (for Terminal 2). The while journey takes about 73-80 minutes and costs CNY10.
From Guangzhou Airport to Guangzhou South Station: If your flight lands at Terminal 2, just take the northern extension line of metro line 3 at Airport North Station, and if your flight arrives at Terminal 1, you should take the metro line 3 at Airport South Station to Jiahewangchang Station first, then transfer to metro line 2 until arriving at Guangzhou South Railway Station.
Reference: Transport to or from Airport by Baiyun Airport official website
| | | |
| --- | --- | --- |
| Station | First Train | Last Train |
| Airport North | 06:00 | 23:15 |
| Airport South | 06:02 | 23:17 |
| Guangzhou South Railway Station | 06:00 | 23:30 |
Reference: To or from Airport by Guangzhou Baiyun International Airport official website.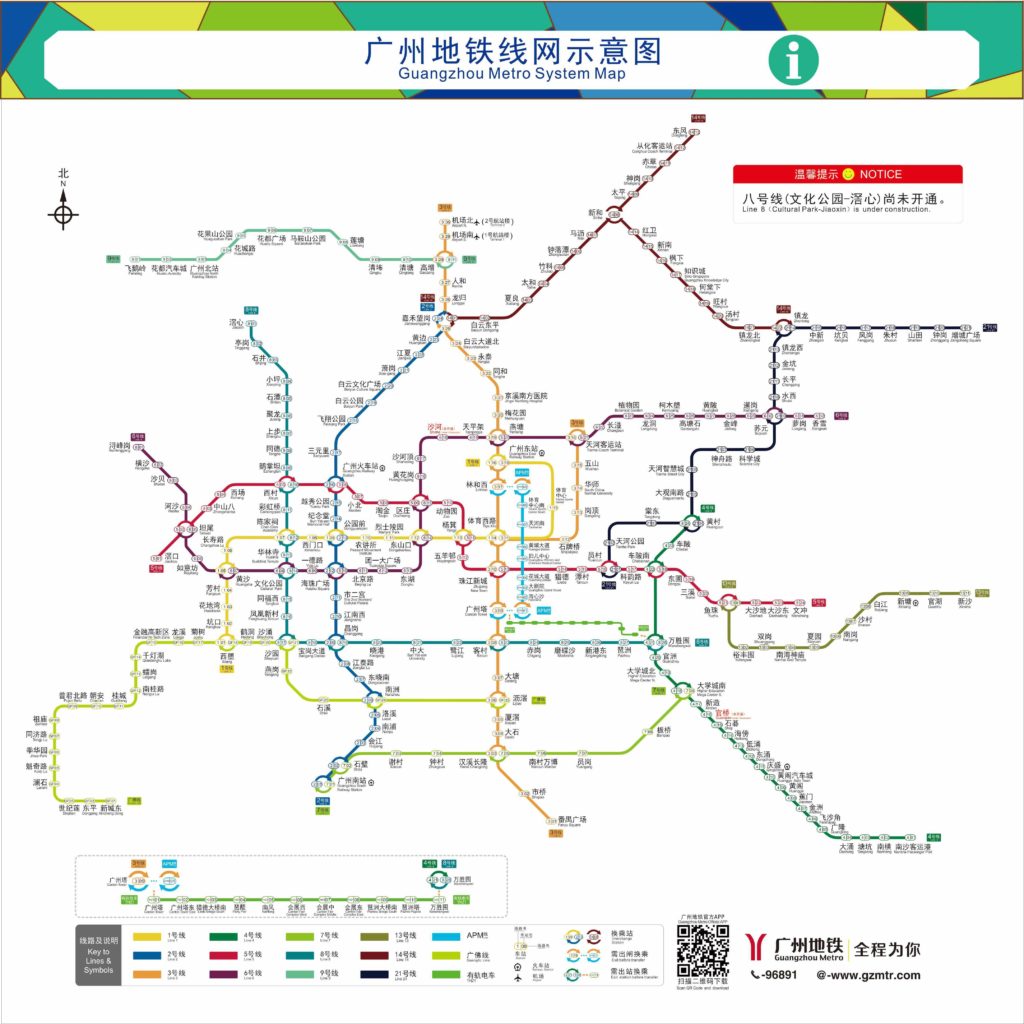 Airport South Station & Airport Nort Station
By Taxi
A taxi ride from Guangzhou Airport to South Railway Station will probably take 1h15m and the taxi fare is about 162 – 200 yuan. Just for your reference.
Guangzhou South Railway Station
Guangzhou South Railway Station is a high speed train station located in south off Guangzhou City. It operates bullet trains to or from Humen (Guangzhou to Dongguan), Shenzhen North Station, Shenzhen Futian Station and Hong Kong West Kowloon Station on the Guangzhou – Shenzhen – Hong Kong High Speed Railway, as well as high speed trains to or from Foshan West, Shunde, Nantou, Xiaolan, Zhongshan, Nanlang, Zhuhai, Guzhen, Jiangmen, Huizhou South, Chaoshan, Shanwei, Shantou, Jieyang, and Meizhou West, etc.
Guangzhou South Train Station Schedules
Check more for live schedule, just refer to China Highlights or China DIY Travel Promo code: ct123
Guangzhou South to or from
Price (CNY)
Duration
Frequency (Daily)
Train Type
More Rail Routes You Maybe Interested
Hong Kong to Guangzhou train, Dongguan to Guangzhou train, Shenzhen to Guangzhou train, Guilin to Guangzhou train, Yangshuo to Guangzhou train, Guangzhou Airport to Guangzhou East Railway Station, Zhuhai to Guangzhou Baiyun Airport
Trusted Online Ticket Agents:
Option 1: China Highlights is a reliable online agency for China train ticketing. They get positive reviews on TripAdvisor & Trustpilot. Sharon and her team help you buy tickets & plan rail routes even deliver tickets to your hotels with a service fee from $6.

Option 2: China DIY Travel is also a trusted online ticketing agent & get recommended for their excellent service on TripAdvisor. Helen & her Australian husband, team are always helpful buying tickets for foreigners. ChinaTrain12306 users can use PROMO CODE "ct123" to reduce booking fees.