HK – Guangzhou
Hong Kong – Guangzhou by High Speed Train: The Best Way
Starting from January 15 of 2023, the Hong Kong – Guangzhou express rail link has been resumed after 3 years' Covid-19 curbs. What's more, there are high speed train services to or from Guangzhou East Railway Station (Guangzhoudong), linking Hong Kong West Kowloon with Guangzhou's city center directly. In the initial stage, there are 14 daily direct high speed trains. 8 trains are using Hong Kong West Kowloon Station and Guangzhou South Railway Station (Guangzhounan), Journey time 50 – 70 minutes, price from CNY215. While the other 6 trains are using Hong Kong West Kowloon & Guangzhou East Railway Station (Guangzhoudong), Journey time 1h30 – 1h40, price from CNY215.
How far is Guangzhou from Hong Kong: the distance is about 180 kilometers or 111 miles.
High Speed Railway & Station Map
How to Take a Train from HK West Kowloon
Photos courtesy of Keith Wong, a Singaporean working in HK & ChinaTrain12306 visitor.
Hong Kong – Guangzhou High Speed Trains
As of January, 2023, there are 14 daily direct high speed trains running between Hong Kong and Guangzhou. 8 trains are running bewteen Hong Kong West Kowloon Station and Guangzhou South Railway Station,while the other 6 trains are using Hong Kong West Kowloon & Guangzhou East Railway Station (Guangzhoudong). Guangzhou East is a new station added to the HK – Guangzhou express rail route, which is centrally located in Tianhe District, city center of Guangzhou, making it possible to travel by train between Hong Kong West Kowloon and Guangzhou's city center directly. You can check live schedule online at:
Check Live English Schedule
Schedule, Ticket Price & Duration
Hong Kong West Kowloon – Guangzhou
Trains
From – To
Frequency
Duration
Live Times
Ticket Fares (CNY/HK$)
1st Cls
2nd Cls
Biz Cls
G trains
HK West Kowloon to Guangzhou South
8 daily
46m-1h07
¥323
¥215
¥452
G trains
HK West Kowloon to Guangzhou East
6 daily
1h39-1h42
¥344
¥215
G trains
Guangzhou South to HK West Kowloon
8 daily
43m-1h17
¥323
¥215
¥452
G trains
Guangzhou East to HK West Kowloon
6 daily
1h41-1h53
¥344
¥215
HK West Kowloon Station is located near Kowloon MTR station and Austin MTR station, both of which are linked to West Kowloon Station via subway or footbridge (just 10 minutes walk). Passengers who want to go to West Kowloon Station by MTR can get to Kowloon Station or Austin Station first, then walk to West Kowloon Train Station. You can use HK MTR journey planner http://www.mtr.com.hk/en/customer/jp/index.php to plan your route and fares.
Guangzhou South Station: it can be reached by metro line 2, line 7. (see Guangzhou metro official site: http://cs.gzmtr.com/ckfwEnglish/)
Guangzhou & Hong Kong train travel videos
China DIY Travel has made lots of helpful videos on how to take a train from HK or Guangzhou. If you are in China, you cannot view youtube videos without a VPN service.
Guangzhou South

Guangzhou East

Guangzhou Station
How to Take a Train from Guangzhou South
How to Buy Tickets for HK – Guangzhou High Speed Trains
Where to buy tickets
Buy at train stations
In Hong Kong: You can buy train tickets with your valid passport at ticket counters in Hong Kong West Kowloon Station. There are 28 ticket counters & 39 self-service ticket machines there, but the ticket machines don't accept foreign passport. You will have to buy at counters. The ticket counters accept HK dollars or Chinese RMB. Note: You can only buy tickets starting from or ending at Hong Kong (eg: HK to Guangzhou or Guangzhou to HK)at most ticket counters in HK West Kowloon Station. If you travel beyond Hong Kong (eg: Guangzhou to Shenzhen, or Guangzhou to Chengdu), you need to buy at the 5 designated ticket counters or using a ticket agent.
Ticketing Channel in HK
Acceptable Identification Document
Advance Sales
Booking Cut-off Time (before train departure)
Payment Method
Cash
e-Payment5
Mobile Payment
Ticket Counters
Passport
28 days
45 mins
HKD & RMB
Visa
MasterCard
UnionPay
Octopus
EPS
Apple Pay
Google Pay
Samsung Pay
Alipay, Alipay HK
WeChat Pay, WeChat Pay HK
Ticket Machine
Not accepted passport
28 days
45 mins
HKD
Visa payWave
payWave
MasterCard contactless
Octopus
Not applicable
In Guangzhou: You can buy tickets at Guangzhou South Station, Guangzhou East Station, Guangzhou Train Station or Guangzhou North Station, etc. Just choose the one close to you. Be expect queue lines there.
Book with a trusted online ticket agent
If you are outside China, and want to buy tickets in advance online, you can turn to use an online ticke agent. Below are two trusted ticket agents who get positive reviews and recommended often on Trip Advisor:
You can place your order any time with the agents, who will buy tickets for you when tickets are released. You can check English train timetable on their site and select a window seat or aisle seat. The agents can deliver tickets to your hotel as well as English instructions on how to take a train in China, how to get to the station, etc.If you run into any troubles, or need to refund or cancell tickets or change trains, they will offer you professional help. A additional service or delivery fee will be charged by the agents.
China Highlights vs China DIY Travel
Website: www.china-diy-travel.com ( Promo code: ct123 )
Customer reviews: Tripadvisor
Team members: Lisa, Danny, Helen, Lynn, Jeremy
Pros:

ChinaTrain12306 users can use

promo code ct123

to reduce service fee.
Helen (Chinese-born Australian) & her Aussie husband are expat living in China, also seasoned world travelers.
They were very reponsive & efficient, booking price is reasonable.
They gets recommended on Trip Advisor forum & positive reviews from customers.
Kept you informed and up to date at all times.
They provided very detailed & easy-to-follow

instructions

on how to pick up tickets, how to read the ticket, how to get to the train station along with photos, how to naviate the large stations.
They offer printed sheet in Chinese to show to people (taxi drivers or ticket issuers) in case you needed help while there.
Offer tips on what to see, do, and eat in different cities.
They made

youtube videos

for customers about collecting tickets, boarding trains, making transfers, directions at specific stations.
Provided emergency contact numbers including whatsapp numbers just in case you ran into problem.
They even gave you Chinese translations to use at bus stops for buying bus tickets when trains were not awailable.
They will try to make sure that you sit together on all the trains. They can also help secure all of you in the same compartment in a sleeper train.
Website: www.chinahighlights.com
Customer reviews: Tripadvisor & Trustpilot
Team members: Ethel Fang, Sharon Huang, Iris Wang, Jason Li, Apple Zeng, Phoebe Ran.
Pros:
They offer ticket

delivery service

, and can deliver to your hotel.
CHT gets positive customer reviews on Trip Advisor & Trust Pilot.
China Highlights is a top reputed online tour agency since 1998.
They are efficient, responsive and reliable.
CHT provides

online seat selection functions

to secure your preferable seats for free.
You will received a

helpful email

detailing how to navigate rail stations, how to pick up tickets, how to board trains & some translated phrases if you needed help.
They will email you alternatives to choose from if the class or train you want isn't available.
CHT has a great number of articles about China train travel.
Jack used to work with the CHT train team, and known how they worked.
CHT accepts

various payments

of credit card, Paypal, iPayLinks, Alipay, WeChat Pay, etc.
CHT can even book you international train tickets from China to Vietnam, Russia, etc.
One-to-one service.
Buy at Hong Kong Website
Hong Kong MTR Group has launched its online ticketing system both in Chinese and English version, where you can check train schedule, ticket fares and book tickets with your passport.After buying tickets online, you will have to collect them at West Kowloon Station.
Collecting Tickets Notes
Important notes: If you buy tikets on Hong Kong MTR official site, you are only be able to collect tickets in HK West Kowloon Station and it is imposible to pick up them in mainland China. So, if you start journey from West Kowloon Station to Guangzhou, and want to travel from Guangzhou back to HK, you should collect all tickets for both journeys (HK to GZ, GZ to HK) in West Kowloon Station. But if you start your journey from Guangzhou South, don't use HK MTR site to book tickets but use a mainland China's site as you cannot pick up tickets booked at HK MTR site in Guangzhou South Station.
When to buy tickets
Train tickets go on sale 30 days in advance for bookings online or 28 days in advance for bookings at train stations.
What are the trains like
Vibrant Express run by Hong Kong MTR Group are used to run along the Guangzhou – Shenzhen – Hong Kong Express Rail Link. The train set is based on CRH380A EMU high speed train, and has two classes of seats: second class and first class seats.
Visitor's Travel Reviews
Travel reviews from Alexandra, a visitor of ChinaTrain12306.com who traveled between HK and Guangzhou by high speed train on a business class seat. Here is his insider tips:
One thing which might be useful to know for people is that if you buy the ticket on the highspeed.mtr.com website you are only able to get them in Hong Kong Kowloon, impossible to retrieve them in mainland china!
Alexandra
More Bullet Trains You Maybe Interested
Shenzhen, Shanghai, Beijing, Guilin, Xiamen, Shantou, Foshan, Guangzhou to Shanghai high speed train
Hong Kong – Guangzhou Through Train

Book Online
The Guangzhou – Hong Kong Through train, or commonly called Guangzhou – Kowloon Through Train is an inter-city train service running between Guangzhou East Station and Hung Hom Station in Kowloon of Hong Kong, jointly operated by MTR Corporation of Hong Kong & Guangzhou Railway Group.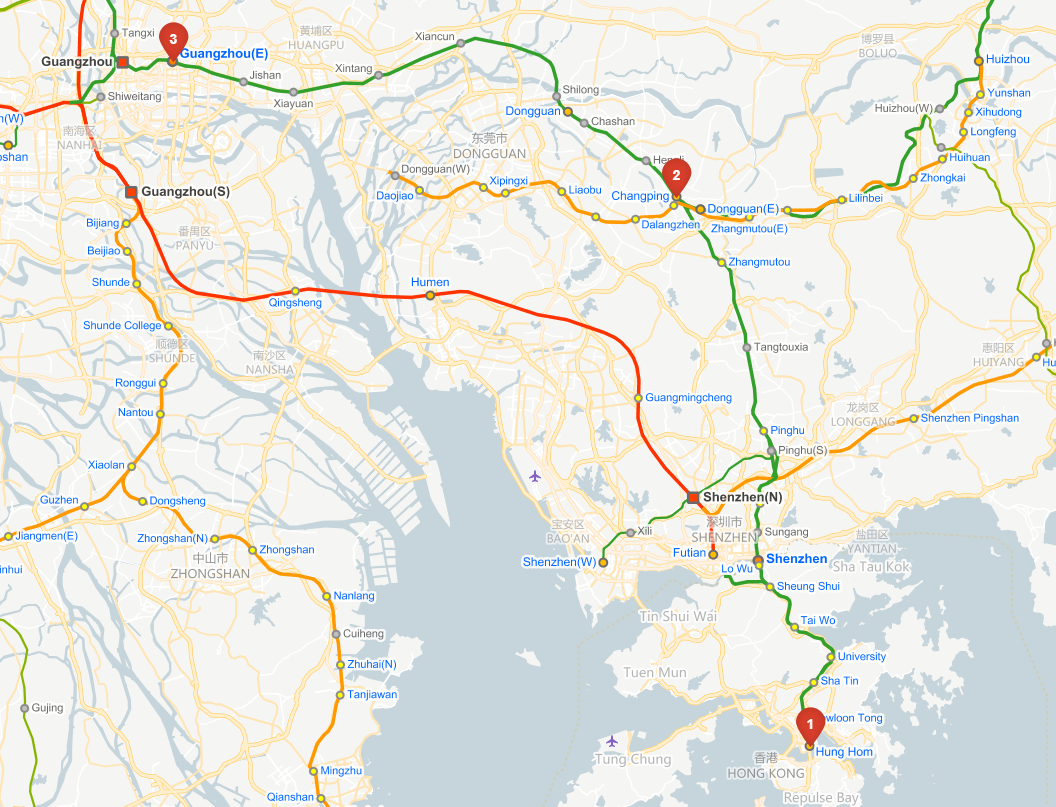 The through trains run 12 times a day between Hung Hom Station and Guangzhou East Station (Guangzhoudong) with some of them calling at Changping Station in Dongguan & one continuing to Foshan Station. Live train schedule & ticket price can be found at its official site:
Through Train Schedule & Fares
The timetable below are used from MTR's official site.
Trusted Online Ticket Agents:
Option 1: China Highlights is a reliable online agency for China train ticketing. They get positive reviews on TripAdvisor & Trustpilot. Sharon and her team help you buy tickets & plan rail routes even deliver tickets to your hotels with a service fee from $6.

Option 2: China DIY Travel is also a trusted online ticketing agent & get recommended for their excellent service on TripAdvisor. Helen & her Australian husband, team are always helpful buying tickets for foreigners. ChinaTrain12306 users can use PROMO CODE "ct123" to reduce booking fees.