Kunshan South Railway Station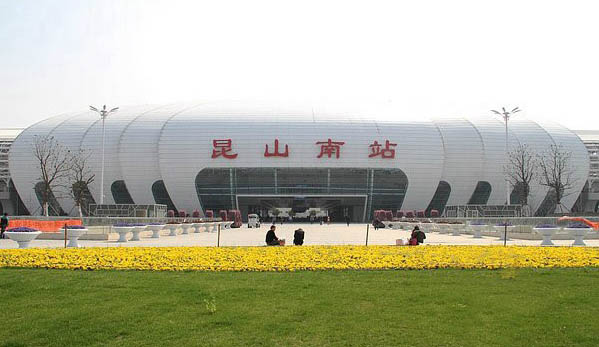 Kunshan South Railway Station (Kunshan Nan, 昆山南站) is one of the three train stations in Kunshan (the other two being Kunshan Railway Station and Yangchenghu Railway Station), serving most of the high speed trains (G and D bullet trains) to or from Kunshan. This station is located in Chuangye Rd, about 2.2 km from Kunshan Railway Station, 10 km from Yangchenghu Railway Station.
Station name: Kunshan South Train Station (昆山南站, KunshanNan, Kunshan Nan)
Address: Chuangye Rd, Yushan Town, Kunshan, Jiangsu Province (江苏省昆山市玉山镇创业), View location on Google Map or OpenStreetMap
Open time: July 1, 2010
Platforms: 4
Distance: 34 km from Zhouzhuang Town
Transportation links: Bus No. 88, 3, 18, 125, 124, etc
Rail service: High speed trains (G and D trains)
Others railway station in Kunshan: Kunshan Railway Station (昆山站), Yangchenghu Railway Station (阳澄湖站)
How to Get to Kunshan South
Passengers can take a public bus 132, 88, 2, 3, 11, 16, 124, 111, 119, 101, 29, 133, 205, 213, 22, 28, 31, 89 to get to Kunshan South Train Station.
Kunshan South to Zhouzhuang
Zhouzhang is 30 km from Kunshan South Station, and passengers can take the public bus 133 from Kunshan South to Zhouzhuang Bus Station (周庄汽车站), journey time: 1h30m & cost: CNY 6. If you want a hassle-free solution, taking a taxi would be better.
Ticket Fares & Travel Time to Major Destinations
For a live schedule & ticket availability, just refer to http://www.chinahighlights.com/china-trains/
From

Kunshan South

to
Price one-way (2nd cls, CNY)
Travel Time
Train Frequency Daily (FYI)
Train Type (high speed)
Shanghai Hongqiao
24.5
17 – 22m
61
G & D train
Shanghai Station
24.5
18 – 23m
29
G train
Hangzhou East
64.5
1h30m
16
G & D train
Nanjing South
114.5
1 – 2h
87
G & D train
Ningbo
112.5
2.5 – 3h
9
G & D train
Beijing South
533.5
5.5 hrs
8
G train
Wuhan
246
5.5hrs
17
D train
Wuxi
34.5
30 – 45m
81
G & D train
Yiwu Railway Station
146
2hrs
4
G train
Trusted Online Ticket Agents:
Option 1: China Highlights is a reliable online agency for China train ticketing. They get positive reviews on TripAdvisor & Trustpilot. Sharon and her team help you buy tickets & plan rail routes even deliver tickets to your hotels with a service fee from $6.

Option 2: China DIY Travel is also a trusted online ticketing agent & get recommended for their excellent service on TripAdvisor. Helen & her Australian husband, team are always helpful buying tickets for foreigners. ChinaTrain12306 users can use PROMO CODE "ct123" to reduce booking fees.