Hong Kong – Meizhou by Train
How to Travel between Hong Kong & Meizhou by Train
Meizhou West Railway Station
opened on October 11 in 2019, making Meizhou enter the era of high speed railway. Meizhou West has introduced high speed train service to or from Guangzhou, Zhuhai, Shenzhen, Shantou, Chaoshan and Xiamen. However, it still has no direct trains to or from Hong Kong. To travel between Hong Kong and Meizhou by train, you will have to make a transfer at Shenzhen (Hong Kong – Shenzhen – Meizhou). The totall rail journey time between Hong Kong and Shenzhen and Meizhou takes around 4 hours.
Route 1: Hong Kong West Kowloon – Shenzhen North – Meizhou West (recommended with more trains)
Route 2: Hong Kong West Kowloon – Shenzhen Futian – Meizhou West
High Speed Railway & Station Map
Ask Jack
If you have any questions on your Hong Kong – Shenzhen – Meizhou, do ask Jack. I'd love to offer my help. Contact Jack.
How to Take a Train from HK West Kowloon – Photo Guide
Photos courtesy of Keith Wong, a Singaporean working in HK & ChinaTrain12306 visitor.
1: Hong Kong West Kowloon – Shenzhen – Meizhou West
From Hong Kong to Meizhou: Since there are no direct bullet trains linkiing Hong Kong and Meizhou, you have to get to Shenzhen first as there are 8 daily departures from Shenzhen North Railway Station and 1 departure from Shenzhen Futian Station. Just take one of the frequent high speed trains from Hong Kong West Kowloon Station to Shenzhen North or Shenzhen Futian Station first, then a connecting train to Meizhou West Railway Station (MeizhouXi, 梅州西站), taking 3.5 hours and costing CNY 161 on a second class seat or CNY 257 for a first class seat.
From Meizhou to Hong Kong: The high speed train from Meizhou to Shenzhen are departing from Meizhou West Railway Station.So just get to Meizhou West by a taxi or public bus 18, 20, 22, 23, 34, 35 first. 8 high speed trains from Meizhou West are arriving at Shenzhen North Railway Station with only one at Shenzhen Futian Station. Then you connect to another train to Hong Kong West Kowloon Station.
[/su_list]
Hong Kong – Shenzhen – Meizhou Train Schedule, Fares & Duration
Hong Kong – Meizhou by Bullet Train
Trains
From – To
Frequency
Duration
Ticket Fares (CNY)
1st Cls
2nd Cls
Biz Cls
G trains
Shenzhen North – Meizhou West
8
3-3.5h
257
161
481
G trains
Shenzhen Futian – Meizhou West
1
3-3.5h
293
186
Hong Kong Airport – Meizhou by Train
If you arrive by flight at Hong Kong International Airport (HKG Airport) and want to travel directly to Meizhou, you can take the airport express from airport to Kowloon Station, which is next to Hong Kong West Kowloon Station within walking distance. From HK West Kowloon Station, you can take a train to Shenzhen North first then a connecting train to Meizhou West Station.?(see Hong Kong Airport to Hong Kong West Kowloon Station page)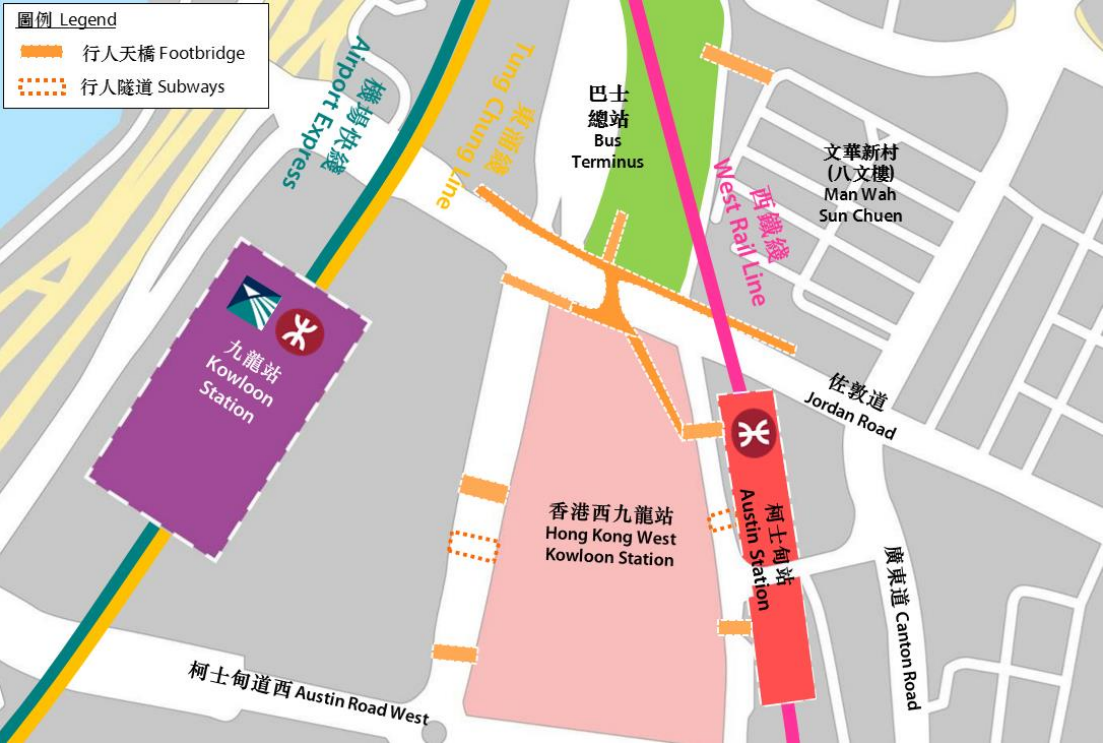 How to Buy Tickets
You can buy tickets yourself at any stations in Meizhou or HK West Kowloon with your passports. But if you don't speak Chinese, you may use a trusted online ticket agent.
Book with a trusted online ticket agent
If you are outside China, and want to buy tickets in advance online, you can turn to use an online ticke agent. Below are two trusted ticket agents who get positive reviews and recommended often on Trip Advisor:
You can place your order any time with the agents, who will buy tickets for you when tickets are released. You can check English train timetable on their site and select a window seat or aisle seat. The agents can deliver tickets to your hotel as well as English instructions on how to take a train in China, how to get to the station, etc.If you run into any troubles, or need to refund or cancell tickets or change trains, they will offer you professional help. A additional service or delivery fee will be charged by the agents.
When to buy tickets
Both China & Hong Kong train tickets go on sale online 30 days in advance or go on sale at train station 28 days in advance.
Where to buy tickets
You can buy tickets with your passports at train station in HK West Kowloon Station or any train stations in Meizhou,etc. Or you can buy tickets online with a trusted online ticket agent, or Hong Kong MTR official site or www.12306.cn (the official Chinese train ticket booking platform, which is only in Chinese).
Buy tickets at train stations
In Hong Kong: You can buy tickets with passports at Hong Kong West Kowloon Station,where there are 23 ticket counters selling Cross Boundary Tickets and 5 designated counters selling Mainland Domestic Tickets. The 5 desinated counters will charge you additional service fees. There are also ticket kiosks there but they don't accept foreigner passports.
Ticketing Channel in HK
Acceptable Identification Document
Advance Sales
Booking Cut-off Time (before train departure)
Payment Method
Cash
e-Payment5
Mobile Payment
Ticket Counters
Passport
28 days
45 mins
HKD & RMB
Visa
MasterCard
UnionPay
Octopus
EPS
Apple Pay
Google Pay
Samsung Pay
Alipay, Alipay HK
WeChat Pay, WeChat Pay HK
Ticket Machine
Not accepted passport
28 days
45 mins
HKD
Visa payWave
payWave
MasterCard contactless
Octopus
Not applicable
In Meizhou : buy in any train stations close to you.
Buy Online at official Hong Kong MTR site
Or you can also use Hong Kong MTR offical site to buy tickets:
Collecting Tickets Notes
Important notes: If you buy tikets on Hong Kong MTR official site, you are only able to collect tickets in HK West Kowloon Station and it is imposible to pick up them in mainland China. So, if you start journey from West Kowloon Station, you should collect all tickets in West Kowloon Station. But if you start your journey from mainland China, don't use HK MTR site to book tickets but use a mainland China's site as you cannot pick up tickets booked at HK MTR site in mainland China's train stations.
Other Rail Routes
Hong Kong to Shantou train, Guangzhou to Shantou train
Trusted Online Ticket Agents:
Option 1: China Highlights is a reliable online agency for China train ticketing. They get positive reviews on TripAdvisor & Trustpilot. Sharon and her team help you buy tickets & plan rail routes even deliver tickets to your hotels with a service fee from $6.

Option 2: China DIY Travel is also a trusted online ticketing agent & get recommended for their excellent service on TripAdvisor. Helen & her Australian husband, team are always helpful buying tickets for foreigners. ChinaTrain12306 users can use PROMO CODE "ct123" to reduce booking fees.