Xiaolan Train Station around Zhongshan
Xiaolan Railway Station (Chinese name: 小榄站) is a small high speed train station along the Guangzhou – Zhuhai Intercity Mass Rapid Transit. More importantly, Xiaolan Train Station is an interchange station of Zhuhai Main Line and Jiangmen Spur Line in the Guangzhou – Zhuhai MRT. It is located in Xiaolan Town around Zhongshan City in Guangdong Province. It started service on January 7, 2011 and has two platforms with 6 rail lines.
Railway Map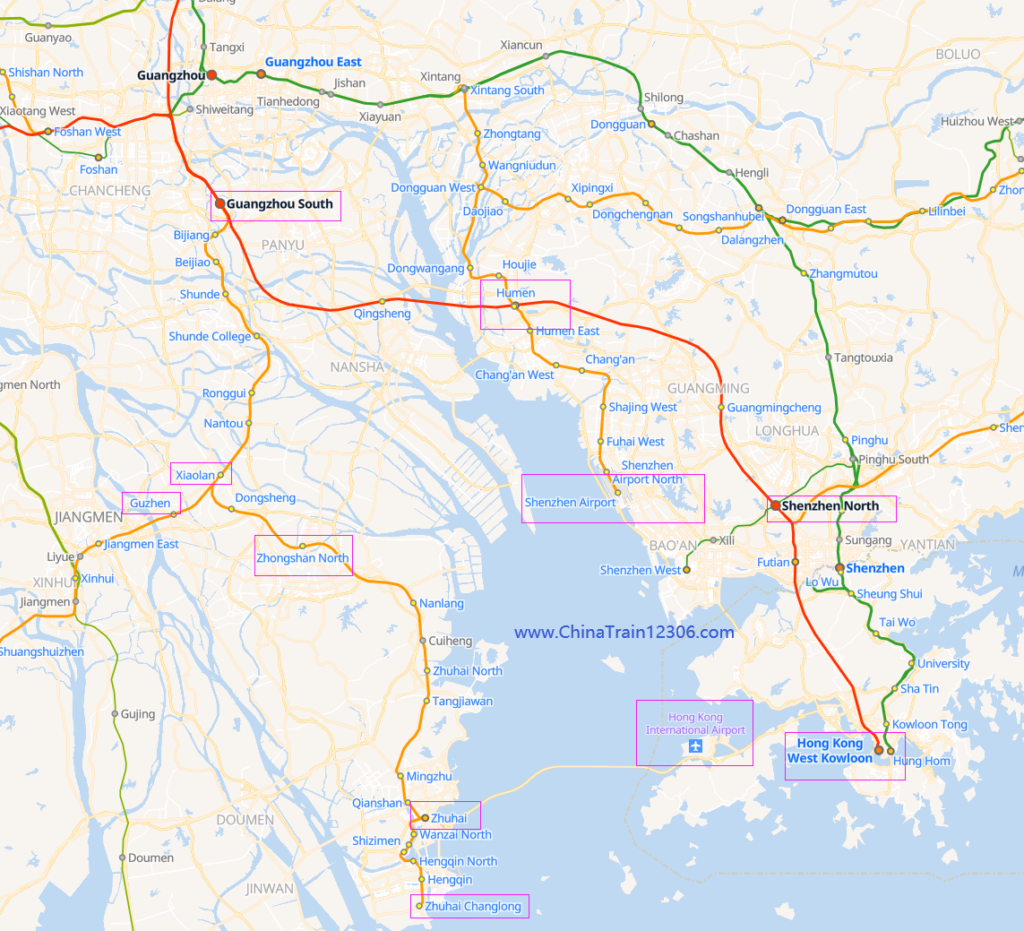 Ask Jack
Feel free to ask me any questions on your rail travel in Xiaolan Zhongshan. Ask Jack.
Train Schedules for Major Destinations
Trains to Xiaolan
From
Price (CNY)
Duration
Frequency (Daily)
Train Type
Guangzhou South
40
25 – 30m
53
C train, D train
Guzhen
10
6m
9
C train
Zhuhai
40
25-35m
39
C train, D train
Zhongshan
11m
9
C train
Shenzhen North
No direct trains. just travel on this: Shenzhen North – Guangzhou South – Xiaolan
Hong Kong West Kowloon
No direct trains. just travel on this: HK West Kowloon – Guangzhou South – Xiaolan
For a live schedule, just refer to China Highlights or China DIY Travel (Promo code: ct123)
How to Get to Xiaolan Railway Station
By bus: You can take any public buses from Zhongshan City to get to Xiaolan Station, including bus 203, 210, 228, 301, 381, 503, 505, 506, 509, 515, 518, K12, K20, and K21, etc.
Hong Kong to Xiaolan by Trains
No direct high speed trains between Hong Kong and Xiaolan available. The best way to travel between HK and Xiaolan is to make a transfer at Guangzhou South. Just travel on this route: Xiaolan – Guangzhou South– Hong Kong West Kowloon
Shenzhen to Xiaolan by Train
Take one of the frequent high speed trains from Xiaolan to Guangzhou South first, then connected to a bullet trains to Shenzhen North Station or Futian Railway Station in Shenzhen. It is an easy journey.
Trusted Online Ticket Agents:
Option 1: China Highlights is a reliable online agency for China train ticketing. They get positive reviews on TripAdvisor & Trustpilot. Sharon and her team help you buy tickets & plan rail routes even deliver tickets to your hotels with a service fee from $6.

Option 2: China DIY Travel is also a trusted online ticketing agent & get recommended for their excellent service on TripAdvisor. Helen & her Australian husband, team are always helpful buying tickets for foreigners. ChinaTrain12306 users can use PROMO CODE "ct123" to reduce booking fees.