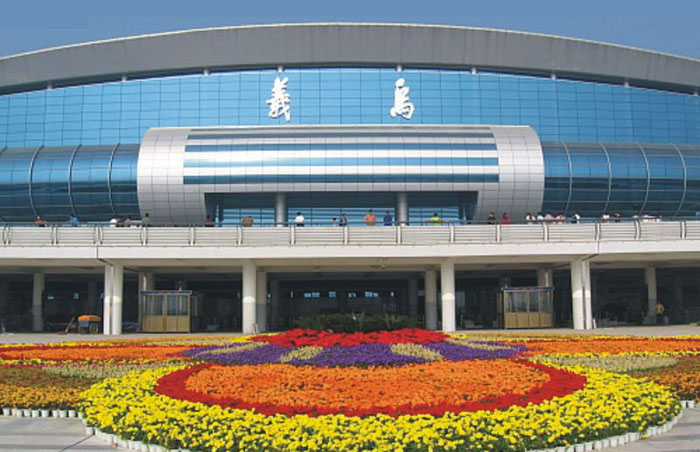 The City of Yiwu in Zhejiang Province, China, famous for its small commidity trade and markets, has only one train station namely Yiwu Railway Station (义乌火车站) with two very important rai lines passing through: Shanghai – Kunming High Speed Railway & Shanghai – Kunming Railway (non-highspeed) connecting major cities like Shanghai, Hangzhou, Jinhua, Wenzhou, Changsha, Nanchang, Guiyang, etc. The station has both high speed train service (G or D trains) & conventional train service (T or K or Z trains).
Location: No.333 Beizhan Avenue, Houzhai Street, Yiwu City (义乌市后宅街道北站大道333号).
Related page: Shanghai to Yiwu High Speed Train, Guangzhou to Yiwu High Speed Train, Hangzhou to Yiwu train, Shenzhen to Yiwu high speed train
Panorama of Yiwu Railway Station (Baidu Map Chinese): You can see blue taxis parking in front of the train station – Click Here.
How to Get to Yiwu Train Station (Local Transportation)
By bus: K801, K802, K803, K804, K805, K806, K807, K809, K818, K801, K370, K380.
Most of the public bus in Yiwu departes every 5 – 30 minutes and cost you CNY 1.5 – 2.
If money is not an issue for you, taking a taxi would be the fastest option.
Yiwu Train Schedule to Major Destinations
For a live schedule, just enter "Yiwu" at http://www.chinahighlights.com/china-trains/
Yiwu Train Schedule (Bullet train G/D type or Conventional train T/K/Z type)
Trains
From – To
Dept – Arri
Duration
Ticket Fares (CNY)
1st Cls
2nd Cls
Biz Cls
G1325
Shanghai Hongqiao – Yiwu
09:30 – 11:05
1h35m
201.5
123
377.5
G1347
Hangzhou East – Yiwu
10:53 – 11:32
39m
84.5
50
158
G163
Beijing South – Yiwu
10:53 – 17:56
7h03m
974.5
578.5
1827.5
G1302
 Guangzhou South – Yiwu
11:23 – 18:12
6h49m
1110
674.5
2131
T170
Guangzhou Station – Yiwu
14:55 – 06:00 (Day 2)
15h05m
482.5 (soft sleeper)
268.5 (hard sleeper)
156.5 (hard seat)
Trusted Online Ticket Agents:
Option 1: China Highlights is a reliable online agency for China train ticketing. They get positive reviews on TripAdvisor & Trustpilot. Sharon and her team help you buy tickets & plan rail routes even deliver tickets to your hotels with a service fee from $6.

Option 2: China DIY Travel is also a trusted online ticketing agent & get recommended for their excellent service on TripAdvisor. Helen & her Australian husband, team are always helpful buying tickets for foreigners. ChinaTrain12306 users can use PROMO CODE "ct123" to reduce booking fees.