How to Travel from Chengdu to Zhangjiajie
The best way to get from Chengdu to Zhangjiajie is using train. As there are no direct trains linking Chengdu & Zhangjiajie, you wil have to make a transfer at Yichang or Chongqing depending on which train you are riding. Just follow the rail travel guides below, which explains you every route option and helps you work out the best route plan.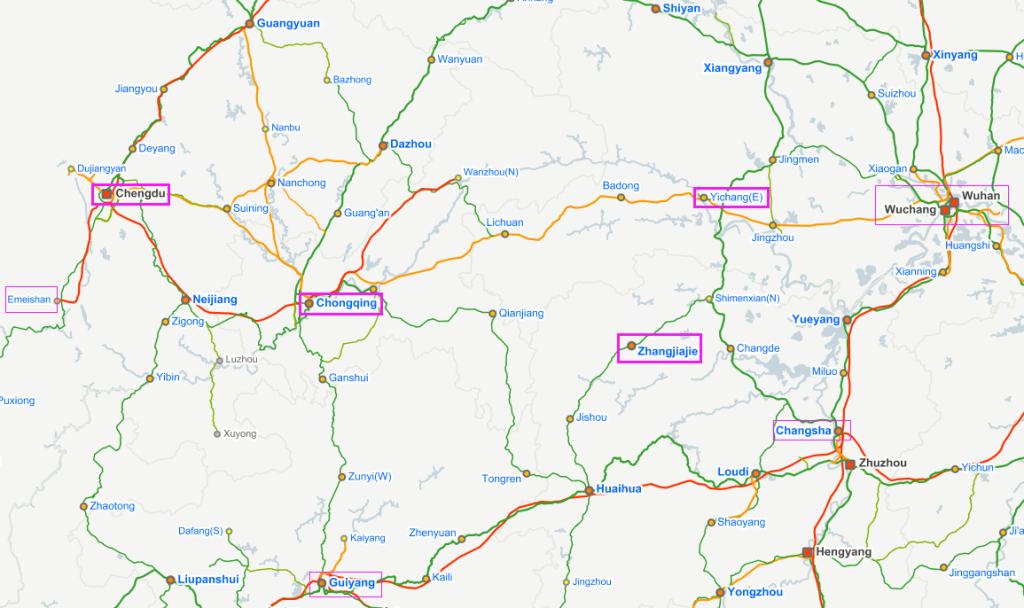 Option 1: Chengdu – Zhangjiajie by Train via Yichang

Book Online
There are no direct trains running between Chengdu and Zhangjiajie, and usually you will have to make a transfer at Yichang East Train Station in Yichang of Hubei Province (Chengdu East – Yichang East – Zhangjiajie). Yichang East Train Station is serveing as an important transfer point, which has 2 daily K trains to or from Zhangjiajie, and 17 daily D type high speed trains to or from Chengdu or Chongqing.
Yichang – Zhangjiajie by K Train, 2 Daily
From Yichang to Zhangjiajie: Two K trains (K1609 & K1473) leave from Yichang East Station to Zhangjiajie Train Station. K1609 departs at mid night at 00:41 and arrives in the morning at 05:46, taking 4h51. K1473 leaves at noon at 13:13 and arrives Zhangjiajie at 18:04.
From Zhangjiajie to Yichang: K1610 travels from Zhangjiajie to Yichang East at 05:53 and arrives at 10:54, while K1474 leaves at 09:03 and arrives at Yichang East at 14:16. (Train times are subject to changes).
Yichang-Zhangjiajie by K train (2 daily)
Train Type
From – To
Frequency
Departure
Duration
Ticket Fares (CNY)
Soft Sleeper
Hard Sleeper
Hard Seat
K1609 & K1473
Yichang East to Zhangjiajie
2
00:41; 13:13
4h51-5h05
135.5
89.5
43.5
K1610 & K1474
Zhangjiajie to Yichang East
2
05:53; 09:03
5h01-5h13
135.5
89.5
43.5
From Chengdu to Zhangjiajie via Yichang : It is not possilble to catch K1473 (Yichang East to Zhangjiajie at 13:13 pm) if your travel directly from Chengdu. You can go for K1609 (depart at 00:41). First, take a D type high speed train from Chengdu East Train Station (15 daily)or Chengdu Railway Station (2 daily) to Yichang East in 6.5-7 hours. Then catch the connecting train K1609 to Zhangjiajie.
For example: Take the last high speed train D634 from Chengdu Railway Station departing at 13:33 and arriving at Yichang East Station at 20:31, taking 6h58. Then have your dinner at Yichang East Station and wait until K1609 bound for Zhangjiajie leaves at 00:41. You get lots of time to kill at Yichang East.
From Zhangjiajie to Chengdu via Yichang: It is flexible to travel from Zhangjiajie to Chengdu by train. Just take either K1610 (05:53) or K1474 (09:03) from Zhangjiajie Railway Station to Yichang East Station first, then a connecting high speed train to Chengdu East Station or Chengdu Railway Station.
Chengdu-Yichang by D type high speed train (17 daily)
Train Type
From – To
Frequency
1st-Last
Duration
Ticket Fares (CNY)
1st Cls
2nd Cls
Biz Cls
D & G train
Chengdu East/Chengdu Station to Yichang East
17
09:10-16:24
6.5-7
311
258.5
776
D & G train
Yichang East to Chengdu East/Chengdu Station
17
06:44-13:33
6.5-7
311
258.5
776
Trusted Online Ticket Agents:
Option 1: China Highlights is a reliable online agency for China train ticketing. They get positive reviews on TripAdvisor & Trustpilot. Sharon and her team help you buy tickets & plan rail routes even deliver tickets to your hotels with a service fee.

Option 2: Trip.com is an internatioal brand owned by Ctrip Group, China's largest online travel booking platform. Trip.com offers booking service for flight, train, hotel, activities, etc