Tongxiang Railway Station (桐乡站) is a train station located at Yuefeng Village (越丰村), Gaoqiao Town, Tongxiang, Jiaxing, Zhejiang Province, along the Shanghai – Hangzhou High Speed Railway and offering high speed train service to Shanghai, Hangzhou, Jiaxing, etc.
Station name: Tongxiang Railway Station (桐乡站)
Location: Gaoqiao Town (高桥镇), Tongxiang (桐乡市), Jiaxing City (嘉兴市) in Zhejiang Province View on Google Map; Panorama on Tencent Map
Open time: June 30, 2011
Platforms: 2
Distance: 30.4 km from Wuzhen Xizha Scenic Area, 131 km west of Shanghai
Transportation: bus No. K281, K282, K283, K284, K285, K188, K322
Rail links: Shanghai – Hangzhou High Speed Railway
Rail service: high speed trains (G or D bullet trains)
How to Get to Tongxiang Station
By bus: K281, K282, K283, K284, K285, K188, K322
Transportation from Tongxiang Station
To the Wuzhen Water Town
If you want a travel from Tongxiang Railway Station to Wuzhen water town, you can take the public bus K282 (CNY 5 per person, and 30 minutes ride) from Tongxiang Station (桐乡火车站) to Wuzhen bus station (乌镇汽车站) first, then K350 (CNY 1 per person and 25 minutes ride) from Wuzhen bus station to Wuzhen Xizha Scenic Area (乌镇西栅景区). The K350 departes every 10 minutes.
By bus:. K282 (06:35-16:45), then K350.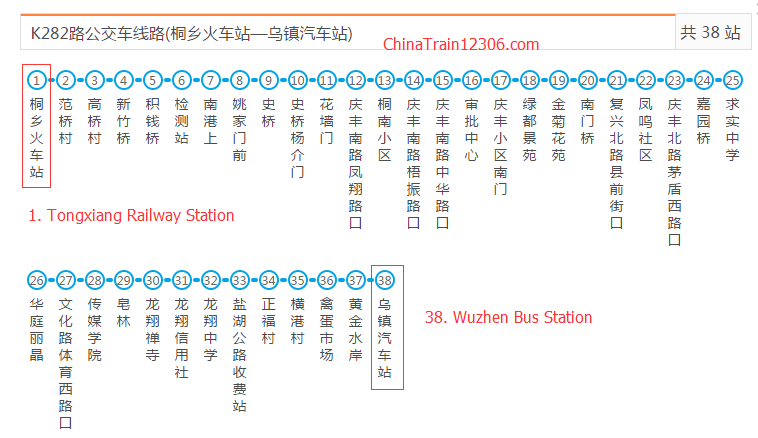 Station Layout
| | |
| --- | --- |
| Ground floor | Entrance & exit, ticket office, waiting hall |
Train Schedule, Ticket Fares & Travel Time 

Book Online
For a live schedule & ticket availability, just refer to http://www.chinahighlights.com/china-trains/
From Tongxiang to
Price one-way (2nd cls, CNY)
Travel Time
Train Frequency Daily (FYI)
Shanghai Hongqiao
50.5
45m
34
Nanjing South
143.5
2h50m
11
Hangzhou East
21.5
20m
32
Jiaxing South
12.5
11m
16
Suzhou
90.5
1h30m
7
Yiwu
71.5
1h
15
Jinhua
95.5
1h20m
9
Fuzhou South
229.5
5h40m
4
Yuyao North
47
1h
11
Shaoxing North
28
45m
10
Trusted Online Ticket Agents:
Option 1: China Highlights is a reliable online agency for China train ticketing. They get positive reviews on TripAdvisor & Trustpilot. Sharon and her team help you buy tickets & plan rail routes even deliver tickets to your hotels with a service fee.

Option 2: Trip.com is an internatioal brand owned by Ctrip Group, China's largest online travel booking platform. Trip.com offers booking service for flight, train, hotel, activities, etc