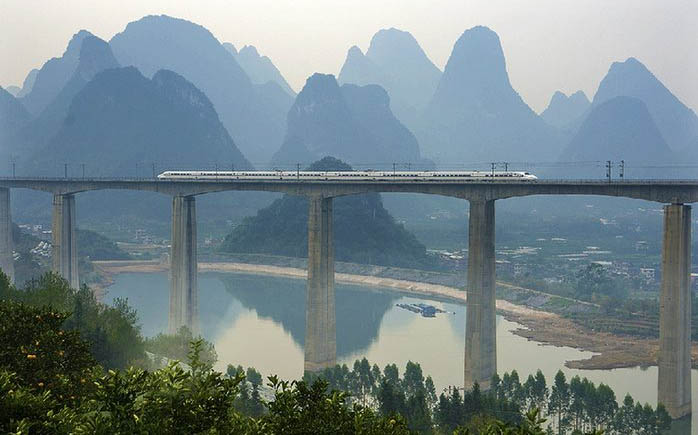 High Speed Train or Slow Train or Flight
There is no need to travel between Guangzhou and Guilin by plane or using the slow overnight trains now, as high speed train service has become available since December of 2014 linking Guangzhou and Guilin on the Guiyang – Guangzhou High Speed Railway. The Guangzhou – Guilin high speed trains are modern, air-conditioned and comfortable and give you a good chance to enjoy the beautiful countryside scenery and Guilin's kast landscape. More importantly, some of the high speed trains will have a stop at Yangshuo (Yangshuo Railway Station), a famous travel town for tourists (See Guangzhou – Yangshuo page).
Distance from Guangzhou to Guilin: around 478 km (297 miles).
| | | | |
| --- | --- | --- | --- |
| Option | Price one-way | Travel time | Note |
| By plane | from CNY 1200 | 1h10m | Check real-time airfares at Ctrip |
| By high speed train | from CNY 137.5 | 2h50m | see below |
| By slow train | from CNY 112 | 11h | see below |
High Speed Trains Guangzhou – Guilin
As of March 2016, there are about 30 high speed trains from Guangzhou to Guilin and reverse.
Train type: D train (200 km/h), G train (300 km/h), high speed.
CRH type: CRH2A, and CRH380A (CRH trains).
Seat class: 1st, 2nd cls, superior cls, and standing ticket.
High spee rail: Guiyang – Guangzhou High Speed Railway
Travel time one-way: 2 h50m.
Ticket price one-way: CNY 165 in first cls seat, CNY 137.5/second cls seat; and CNY 247.5 in superior cls.
Guangzhou South (GuangzhouNan): by metro Line 2 & Line 7 (not open yet).
Guilin North (GuilinBei): by bus 1, 32.
Guilin West: by bus 22b, 303. This newly-opened station is a little bit far from Guilin's center with less public transport service.
Note: Choosing Guilin North as your departure or arrival station is better than choosing Guilin West becasue Guilin North is more close to the city center of Guilin with more public transport service (bus or taxi).
Map of Stations & High Speed Rail Route
The booking horizon for Chinese train tickets is up to 60 days. It is advisable to book tickets in advance with your passport at station or online.
If you want an onward travel from Guilin to Yangshuo, there are several high speed trains to Yangshuo. But the best option would be taking a bus.
If you travel from Shenzhen to Guilin, please refer to pages: Shenzhen to Guilin Train & Guangzhou Shenzhen Train
Schedule, Ticket Price & Travel Time
Guangzhou to Guilin high speed trains (over 30 trains daily)
Trains
From – To
Dept – Arri
Duration
Ticket Fares (CNY)
1st Cls
2nd Cls
Superior Cls
G2902
Guangzhou South – Guilin North
07:59 – 10:49
2h50m
165
137.5
247.5
D3676
Guangzhou South – Guilin North
07:23 – 10:13
2h50m
165
137.5
–
G2904
Guangzhou South – Guilin North
12:28 – 15:20
2h52m
165
137.5
247.5
D2858
Guangzhou South – Guilin West
09:00 – 12:00
3h
165
137.5
–
D2826
Guangzhou South – Guilin West
09:43 – 12:31
2h48m
165
137.5
–
Guilin to Guangzhou high speed trains (30 trains daily)
Trains
From – To
Dept – Arri
Duration
Ticket Fares (CNY)
1st Cls
2nd Cls
Biz Cls
G2901
Guilin North – Guangzhou South
11:10 – 13:57
2h47m
165
137.5
247.5
G2903
Guilin North – Guangzhou South
16:12 – 19:16
3h4m
165
137.5
247.5
D2833
Guilin North – Guangzhou South
08:23 – 11:19
2h56m
165
137.5
–
D2861
Guilin West – Guangzhou South
10:34 – 13:30
2h56m
165
137.5
–
D2863
Guilin West – Guangzhou South
12:11 – 15:15
3h4m
165
137.5
–
You Might Also Be Interested
Guilin to Kunming train, Guilin to Sanjiang train, Guilin to Nanning train, Guangzhou to Fenghuang