Train VS Flight
How far is Guilin from Kunming: the distance is about 1250 km (776 minles).
Kunming – Guilin: Train and flight are often the way to go to travel between Kunming and Guilin. Flight is denifitely the fastest but uncertained option (flight delay or cancellation), while a slow train is the fairly cheap but time-consuming option. The good news is that the high speed train between Kunming and Guilin service has been opened as the Kunming South Railway Station begun operation in December of 2016. Thus, high speed trains are denifitely the best option to travel from Kunming to Guilin, because the bullet train is clean, morder and comfortable and runs on time.
Kunming – Yangshuo: Travelers can also take a high speed train from Kunming to Yangshuo (via Guilin) directly. Take a train to Guilin then transfer to Yangshuo. For more information, just refer to Yangshuo Railway Station.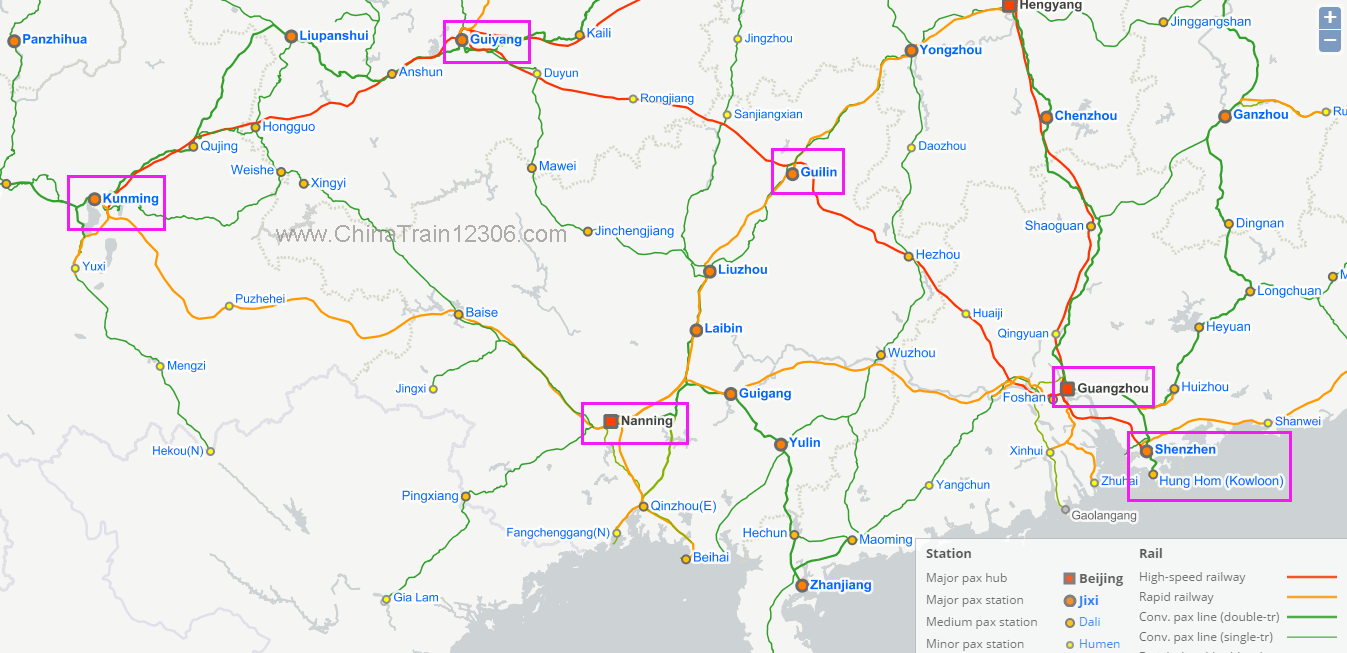 Option 1: Kunming – Guilin by Direct High Speed Train

Book Online
Kunming South Railway Station has opened in December of 2016, and introduced high speed rail service connecting Kunming with Guilin directly, making it possible to travel between with bullet trians. Currently there are only one direct high speed train (D train) running between Kunming and Guilin, using Kunming South Railway Station and Guilin Railway Station. For Kunming to Guilin direction, the bullet train D3942 departs from Kunming South at 07:30 and arrives at Guilin Railway Station at 15:27, taking 7h75m and costing from CNY 373.5 in a second class seat. For Guilin to Kunming, the bullet train leaves Guilin Train Station at 15:19 and arrives at Kunming South at 22.52.
Option 2: Kunming – Guilin via Guiyang by High Speed Train (Recommended)

Book Online
Since the direct high speed train is limited, personally, I would recommend you to take this route for your rail travel: from Kunming to Guilin via Guiyang North (贵阳北站, Guiyang Bei,Guiyangbei), as it saves your time and money and more importantly, you have more than 20 high speed trains for option.
Kunming – Guiyang – Guilin: First, take one of the 20 daily high speed trains (G train) from Kunming South to Guiyang North first, taking 2 – 2.5 hours and costing from CNY 212.5, then catch one of the 26 daily high speed trains from Guiyang North to Guilin (arriving at Guilin Railway Station, Guilin North and Guilin West), taking 2.5 – 3 hours and costing about CNY 132.5. Remember to allow 50 minutes for making the connection.
Guilin – Guiyang – Kunming: Take a D train from Guilin Station or Guilin North or Guilin West to Guiyang North, then catch a connecting train to Kunming South. Yes, you can make it that way.
Option 3: Kunming – Guilin by Slow Train

Book Online
Currently, there are T type train (slow train, non-highspeed) running between Kunming and Guilin (T382 from Kunming to Guilin North & T381 from Guilin North to Kunming), which runs daily and takes about 19 – 20 hours and costs from CNY 261.5 for a hard sleeper. The T train will have an intermediate stop at Nanning, the capical city of Guangxi Province.
Train type: T train
Seat class: Soft sleeper, hard sleeper, and hard seat.
Travel time one-way: 19h – 20h.
Ticket price one-way: CNY 409.5/soft sleeper, CNY 261.5/hard sleeper; and CNY 152.5/hard seat.
Stations used in Guilin: Guilin North Railway Station (Guilinbei 桂林北站)
Stations used in Kunming: Kunming Railway Station (Kunming, 昆明站)
Guilin North Railway Station is located in Diecai District, north of Guilin, and can be reached by public bus No. 1, 32,100, 302, and the bus ticket fare is CNY 1 – 2.
Kunming Railway Station can be reached by metro line 1 and line 2 or by public bus 2, 23, 24, 25, 31, 32, 44, 47, 58, 59, 60, 64, 68,etc.
Travel Tips
The ticket sales open 60 days in advance for bookings online, or 58 days in advance for booking at train station. Foreigners can buy tickets with your passport at a train station, or ask your hotel's staffs to buy it, or use a trustworthy online ticket agent like http://www.chinahighlights.com/china-trains/. The online agents would charge you a small fee and take care of your route request.
Train Times, Duration and Ticket Price
Others Related Pages
Kunming to Nanniing; Kunming to Lijiang Train; Guilin to Nanning Trains; Guilin to Guangzhou Train; Yangshuo to Guangzhou; Kunming to Guangzhou High Speed Train;