Guangzhou South Train Station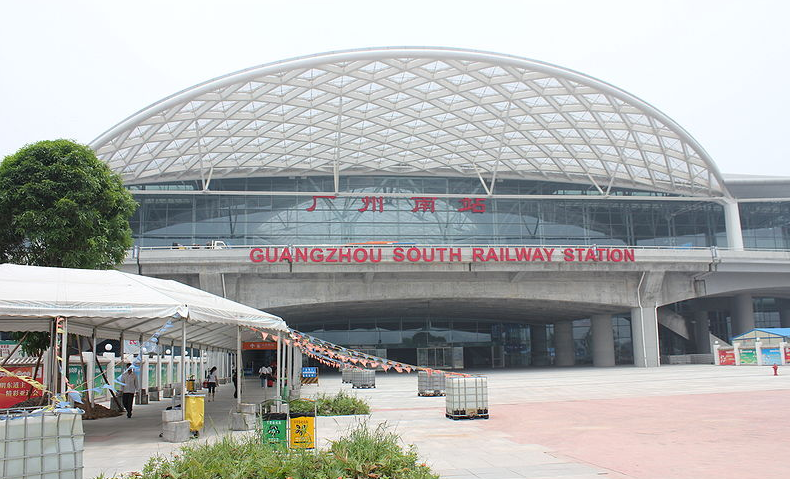 Guangzhou South Railway Station (Guangzhounan, Guangzhou Nan, 广州南站) is a train station for high speed train service in Guangzhou, which is located in Shibi Town, Panyu District. As one of the largest rail hub in South China, Guangzhou South serves frequenct high speed train service to or from Shenzhen, Changsha, Beijing, Shanghai, Nanning, Guilin, Kunming, Zhengzhou East Train Station, etc. The station has about 28 platforms and 3 levels and is well connected by metro service, public bus, taxi.
Station name: Guangzhou South Railway Station (Guangzhou Nan, Guangzhounan, 广州南站)
Location: Shibi, Panyu District of Guangzhou, see on Google map
Platforms: 28
Making a Train Connection
Sometimes your rail journey requires you to make a connection at Guangzhou South in order to change onto another train. However, many foreigners don't know how to make such a connection and how much connection time should they allow for as they don't get familar with the station. Here are some information that may help you.
How to Make a Connection / Transfer within Guangzhou South Station
If your connecting train leaves from the same station (Guangzhou South) that you arrive at, you don't have to exit from the station then rejoint but simply follow the sign "Transfer" to go upstairs to level 3, where you'll need to show your two tickets (previous trip & next trip) to the staffs when entering the gate. After you get into the waiting room (level 3), just look for the information screen which writes the Check-in gate (someting like A3, B3, sometimes can be seen at the right top corner of your ticket) for your connecting train, then go to the right check-in gate to wait for your connecting train's departure.
Remember that Guangzhou South Railway Station has 4 levels, and the level 2 is for platforms & level 3 for waiting area, which means that your train always departs and leaves from the platform level (level 2), and your tickets are always check at the level 3. All you need to do is to go upstairs from level 2 to level 3, where to look for your next train, then go downstairs again to level 2 (changing platforms) to take your connecting train.
Example: Taking a train from Guilin North to Shenzhen North with a change of train at Guangzhou South. Since the direct high speed trains from Guilin to Shenzhen are limited (3 daily), you can go from Guilin North to Guangzhou South first, then a connecting train from Guangzhou South to Shenzhen North, which gives you more train options.
Here is how-to guide: Take a high speed train from Guilin North to Guangzhou South arriving at level 2, then get out from train & look for the "Transfer" sign (seen on screen & ground) which directs you go upstairs to level 3 where you look for the right check-in gate for your connecting train.
Guangzhou South – Baiyun Airport
By taxi: around 166 – 200 yuan, 1hour.
Train Connection to Hong Kong
Guangzhou South has no trains to Hong Kong, and usually you'll have to make a transfer to Guangzhou East Railway Station (by metro line 2 and line 1, 40-50 mins), where you can catch the Guangzhou – Kowloon Through Train which arrives at Hung Hom Station in Kowloon, Hong Kong. Use https://exploregz.com/metro/ for metro route plan.
For buying train tickets from Guangzhou East to Hung Hom HK online, you may contact http://www.chinahighlights.com/china-trains/.
Transfer: Guangzhou South to Guangzhou East
Guangzhou East Train Station (GuangzhouDong, 广州东站) operates the through train service to Hung Hom Station in Kowloon of Hong Kong. Many passengers from Guangzhou South who wants to enter Hong Kong by direct trains (You can also go to Shenzhen to enter into Hong Kong) will have to make a transfer to Guangzhou East first. Just take metro line 2 at Guangzhou South (metro station) to Gongyuanqian (metro station), then change onto metro line 1 to reach at Guangzhou East, journey time 40 – 50mins.
Other Rail Guides You Maybe Interested
Guangzhou to Yangshuo, Guangzhou to Kunming, Guangzhou to Guilin, Guangzhou to Shenzhen, Guangzhou to Fenghuang, Guangzhou to Yiwu, West Kowloon Station
Trains from Guangzhou South
Regional Train within Guangdong Province
From Guangzhou South to
Price (CNY)
Duration
Frequency (Daily)
Train Type
Chaoshan
164
2.5-3.5h
10
G train
Zhuhai
70
1-1.5h
39
C train
Shaoguan
164.5
50m
67
G train
Jiangmen
40
40-50m
19
C train
Humen
34.5
17-24m
52
G train
Sanshui
15.5
27m
34
D train
Zhaoqing East
23.5
36m
56
D train
Yunfu East
42.5
1h
22
D, G train
Huizhou South
91
1h
8
G train
Qingyuan
39.5
24m
12
G train
Check more for live schedule, just refer to http://www.chinahighlights.com/china-trains/
Trusted Online Ticket Agents:
Option 1: China Highlights is a reliable online agency for China train ticketing. They get positive reviews on TripAdvisor & Trustpilot. Sharon and her team help you buy tickets & plan rail routes even deliver tickets to your hotels with a service fee.

Option 2: Trip.com is an internatioal brand owned by Ctrip Group, China's largest online travel booking platform. Trip.com offers booking service for flight, train, hotel, activities, etc