Kunming – Vientiane by Train 2023
Kunming – Vientiane by Railway
Kunming and Vientiane are two beautiful capital cities that are well worth visiting for foreign tourists. The good news is that starting from April 13, 2023, the China – Laos Railway has commenced cross-border passenger service between these two cities, providing a convenient and comfortable way to travel. If you're planning to visit these two capitals, travelling by train is an affordable and scenic option.
Train No.
From
Departure
To
Arrival
Duration
Frequency
Fares
D887
Kunming South
08:08
Vientiane
16:34
9h26m
1 daily
¥542
D888
Vientiane
10:30
Kunming South
19:38
10h30m
1 daily
¥542
Kunming – Vientiane Railway (China – Laos) Maps
Ask Jack
Hi there. I am Jack Li, the author of ChinaTrain12306. I used to work for China's largest online tour agency China Highlights for 4 years, where I helped foreign travelers plan rail routes & bought tickets. In 2015, I started this blog to follow my passion. Now I am blogging as a hobby, sharing train travel tips, news and answering questions on Trip Advisor forums. If you have any train travel questions, just send Jack an email.
Kunming – Vientiane Train D887 / D888 Schedule
The Kunming – Vientiane international cross-border train started operation on April 13, 2023. The train runs once daily from Kunming South Railway Station (Kunmingnan) and arrive at Vientiane Railway Station, calling at Pu'er Railway Station, Xishuangbanna Railway Station, Mohan Railway Station in China, as well as Boten Station, Luang Prabang Station, Vang Vieng Station in Laos. The whole journey takes around 10h30m.
D887 train from Kunming South to Vientiane
D888 train from Vientiane to Kunming South
No.
Stations
Depart
Arrive
No.
Stations
Depart
Arrive
1
Kunming South
08:08
1
Vientiane
08:08
2
Pu'er
10:36
10:32
2
Vang Vieng
09:03
09:00
3
Xishuangbanna
11:24
11:18
3
Luang Prabang
09:57
09:53
4
Mohan
13:23
12:23
4
Boten
12:37
11:07
5
Boten
14:35
13:35
5
Mohan (UTC+8)
15:19
13:49
6
Luang Prabang
15:49
15:45
6
Xishuangbanna (UTC+8)
16:26
16:20
7
Vang Vieng
16:41
16:38
7
Pu'er (UTC+8)
17:10
17:06
8
Vientiane
17:34 (Beijing time)
8
Kunming South (UTC+8)
19:38
Train No.
From
Departure
To
Arrival
Duration
Frequency
Fares
D887
Kunming South
08:08
Vientiane
17:38
10h30m
1 daily
¥542
D888
Vientiane
10:30
Kunming South
19:38
10h30m
1 daily
¥542
D887 train runs from Kunming South (Kunmingnan) at 08:08 (Beijing time) and arrives Vientiane Railway Station at 18:38 (Beijing time), taking 10h30m.
D888 train departs from Vientiane Railway Station at 09:08 (Beijing time), and reaches at Kunming South Station (Kunmingnan) at 19:38, taking 10h30m.
Schedule last updated: April 28, 2023
 Buy Train Tickets Online
1. Buy online with official platforms
Passengers can book D887 train tickets from Kunming to Vientiane online via the official 12306 China Railway website www.12306.cn  (English version) or official booking APP: Tielu 12306 (English version for iOS) or Tielu 12306 for Android English version.
For D888 train tickets from Vientaine to Kunming, passengers can book them online via the official LCR Ticket app: LCR Ticket Android or LCR Ticket iOS. LCR Ticket APP is the official phone application for booking Laos rail tickets. It is owned by Laos-China Railway Co. Ltd. (LCR) and offer services in 3 languages: the Chinese, English and Laotian. With the app, passengers can check real-time schedule, purchase tickets, and make online payment and ticket refund, etc. It has both Android and iOS versions.
2. Buy tickets with online ticket agents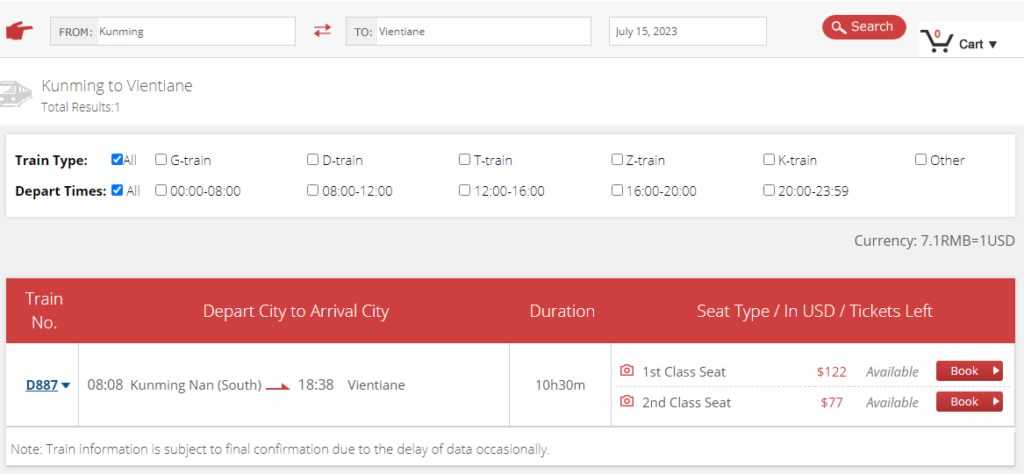 www.chinahighlights.com and www.china-diy-travel.com (Promo code: ct123) are the two most recommended and trusted online ticket agents on Trip Advisor forum. Lots of foreign travelers had use their websites to check live train schedule and book ticekt with them. They even provide ticket delivery service. You can read some reviews on Trip Advisor before using them.
 Buy Tickets at Train Station
You can also buy tickets at a train station, you can purchase them in person at stations in China or train stations in Laos
For buying D887 Kunming to Vientiane train tickets, you can buy at train stations below:
For D888 train tickets from Vientiane to Kunming, passengers can purchase them at stations such as Vientiane Railway Station, Vang Vieng Railway Station, Luang Prabang Railway Station, and Boten Railway Station. At the train station, you will need to provide your passport and other relevant information and pay in cash.
When to Buy Train Tickets
It's recommended to buy the cross-border train tickets in advance, especially during peak travel periods such as the Chinese holidays (Labour Day, National Golden Week, Lunar New Year). Train tickets can be purchased online up to 15 days in advance for D887 and D888 trains. Book early to secure your preferred seats and avoid disappointment.
Immigration & Customs
Passengers will go through immigration and customs control when crossing the border from China to Laos or vice versa. Make sure to have your passport, visa, and relevant documents ready for inspection. You will also need to declare any items that are restricted or prohibited by law in both China and Laos. The immigration and customs procedure may take some time in Mohan Railway Station of China, and in Boten Railway Station of Laos (both in 3 hours), so make sure to plan accordingly.
 Apply Visa in Advance
To travel between China and Laos via the cross-border train, foreign tourists need to obtain a visa in advance. The Mohan Railway Station Port and the Boten Railway Station Port  do not provide visa-on-arrival services. Make sure to check the visa requirements and apply for a visa in a timely manner before your trip.
In Kunming, you need to go to the Consulate of Laos in Kunming in Caiyunbei Lu in Guandu District to  apply for a visa to Laos. Office hour:
Monday to Friday
Morning: 09:00 – 11:30
Afternoon: 14:00 – 16:00
Appart from Laos Consulate in Kunming, you can also apply visa to Laos via Laos Consulate in Jinghong, Shanghai, Guangzhou, Nanning, Changsha and Hong Kong.
FAQ
Is there a rail link from Kunming to Vientiane?

Yes, the China – Laos Railway offers cross-border passenger service between Kunming and Vientiane.

How long is the train from Kunming to Vientiane?

The journey time for the D887 train from Kunming to Vientiane is 10 hours and 30 minutes.

How far is Kunming from Vientiane?

Kunming is about 610 kilometers from Vientiane.

Is there a railway from Laos to Yunnan?

Yes, the China – Laos Railway connects Laos to Yunnan province in China.

Is the Kunming – Vientiane train a high speed train ?

No, the Kunming – Vietiane train services are using China Railway CR200J trainset,that are running at a top speed of 160 km/h, which is called Lancanghao (澜沧号) and named after the Lancang River (rom Grong).
Getting to train stations & airports in Kunming
Reading More
Kunming to Hekou, Kunming to Vang Vieng, Kunming to Luang Prabang
Trusted Online Ticket Agents:
Option 1: China Highlights is a reliable online agency for China train ticketing. They get positive reviews on TripAdvisor & Trustpilot. Sharon and her team help you buy tickets & plan rail routes even deliver tickets to your hotels with a service fee.

Option 2: Trip.com is an internatioal brand owned by Ctrip Group, China's largest online travel booking platform. Trip.com offers booking service for flight, train, hotel, activities, etc