Kunming South Railway Station (KunmingNan Railway Station, 昆明南站, Kunming Nan) is a high speed train station under construction (It is estimated to be open in the end of 2016) serving the City of Kunming in Yunnan Province, China. It is located in the east of Chenggong District, Kunming (昆明市呈贡区东部), and will be handling passenger service along the Nanning – Kunming Passenger Dedecated Line (PDL), Chongqing – Kunming PDL as well as the Shanghai – Kunming PDL when the construction is completed. The station begun its construction on June 16, 2011.
Note: Kunming South Railway Station starts operation on December 28 of 2016.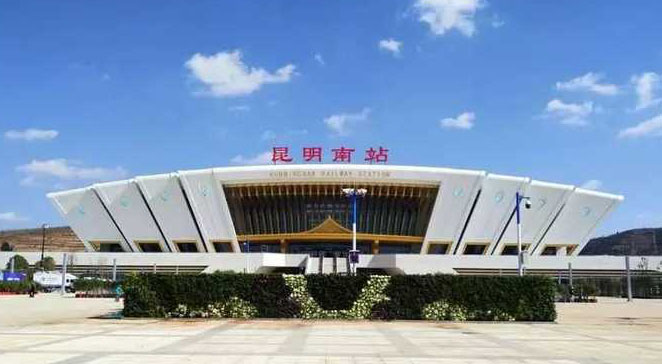 If you want to check a live train schedule from Kunming, please refer to http://www.chinahighlights.com/china-trains/
Kunming South is 7 km from Dian Lake (滇池), 28 km from Kunming Railway Station (昆明站).
Local Transportation
By metro: Line 1 and Line 4.
Kunming South Address on Map
More maps, please refer to this page: Kunming Souht Location Map on Google Map, Baidu Map, Open Street Map, etc.

Enlarge
Station Design
Kunming South has 4 floors:
3rd floor: Passenger waitting hall.
2nd floor: Track and platfom.
1st floor: Exit, taxi parking area, arrival hall.
B1 floor: Platforms for metro line 1 and 4.
Other Rail Route Pages
Kunming to Nanning Train; Kunming to Lijiang Train; Bus Stations in Kunming; Kunming to Guilin train; Kunming to Guangzhou train, Kunming to Fenghuang
Check Live Train Times for Trains from Kunming
Use the following links to check the real-time train timetable for trains from Kunming.
For buying tickets online, you may try http://www.chinahighlights.com/china-trains/
Trusted Online Ticket Agents:
Option 1: China Highlights is a reliable online agency for China train ticketing. They get positive reviews on TripAdvisor & Trustpilot. Sharon and her team help you buy tickets & plan rail routes even deliver tickets to your hotels with a service fee from $6.

Option 2: China DIY Travel is also a trusted online ticketing agent & get recommended for their excellent service on TripAdvisor. Helen & her Australian husband, team are always helpful buying tickets for foreigners. ChinaTrain12306 users can use PROMO CODE "ct123" to reduce booking fees.