Shangrao Railway Station
Shangrao Railway Station (上饶站) is at located Lingxi Street, Xinzhou District of Shangrao City in Jiangxi Province (江西省上饶市信州区灵溪街道), which serves as an important railway junction of the Shanghai – Kunming High Speed Railway and Hefei – Fuzhou High Speed Railway. Also, it serves as an transfer point for those going to Huangshan and Wuyuan (in Jiangxi Province) by high speed train.
Station name: Shangrao Railway Station (上饶站)
Location: Xinzhou District of Shanghai City, Jiangxi Province (Location on Google Map)
Platform number: 7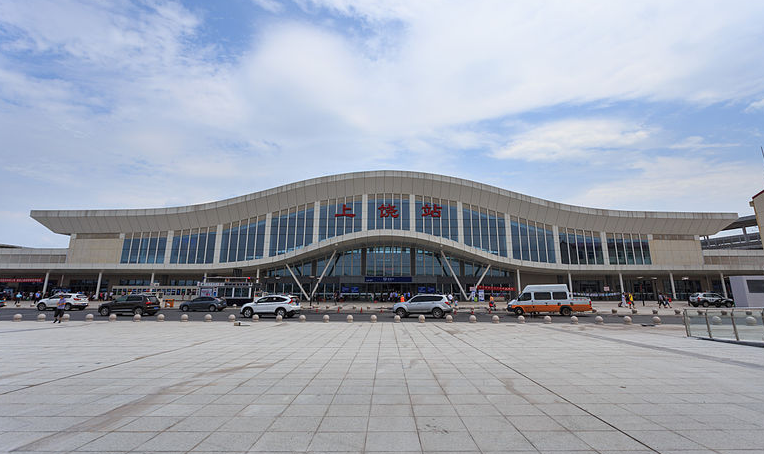 How to Get to Shangrao Station
There are public buses connecting Shanghao Railway Station with Shangrao City. These bus services include public bus 6, 7, 15, 16, 17 and 19, etc. Also, there are taxi services at the square in front of the station building.
Making a Transfer at Shangrao Station
As Shanghao Railway Station is a railway junction of Shanghai – Kunming HSR and Hefei – Fuzhou HSR, it serves as an important rail hub for travelers to make a transfer here. For expamle a traveler who wants to travel from Shanghai to Huangshan can make a transfer at Shangrao Railway Station if the only one direct train from Shanghai to Huangshan sells out. That means you can travel from Shanghai Hongqiao to Shangrao first, then a connecting train from Shangrao to Huangshan North Station.
How much connection time should I allow for making a transfer: Gennerally speaking, 45 – 60 minutes would be OK to make a transfer. You can exit from the station then rejoint the station to look for your next train or just simplely follow the sign "transfer" which directs you to the right waiting room & platform for your next train. Just see the photo of the transfer sign below.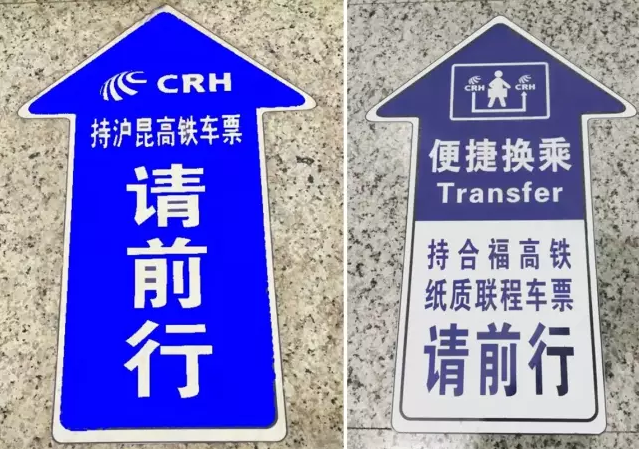 Train Schedule from Shangrao
Below are the major train schedules for trains running from Shangrao Railway Station.
1. Schedule for Shanghai – Kunming HSR Route (Shanghai – Hangzhou – Shangrao – Nanchang – Changsha – Guiyang – Kunming)
Shangrao Train Schedule
From Shangrao to
Price (RMB)
Duration
Frequency (Daily)
Train Type
Shanghai Hongqiao
154/229
2.5 – 3 hrs
43
G,D
Hangzhou East
105/156.5
2 hrs
70
G,D
Nanchang West
74.5/110.5
1h
67
G,D
Changsha South
264
2.5 – 4h
40
G
Guiyang North
542.5
6.5 – 7h
16
G
Kunming South
701
9h
4
G
Huaihua South
401
4.5 – 5.5h
19
G
Guangzhou South
579
5.5 – 6h
6
G
Shenzhen North
378.5
7.5h
1
G
For a live schedule & ticket availability, just refer to http://www.chinahighlights.com/china-trains/
2. Schedule for Hefei – Fuzhou HSR Route (Hefei – Huangshan – Wuyuan – Shangrao – Fuzhou)
Shangrao Train Schedule
From Shangrao to
Price (RMB) from
Duration
Frequency (Daily)
Train Type
Hefei South
215
2.5h
17
G
Huangshan North
74.5
40 – 50 mins
19
G
Wuyuan
39.5
30 mins
14
G
Wuyishan North/East
36.5/53
20 – 30mins
40
G
Fuzhou
156
1.5 – 2h
40
G
Xiamen
227.5
3.5 – 4h
21
G
Jinjiang
214.5
3.5h
4
G
For a live schedule & ticket availability, just refer to http://www.chinahighlights.com/china-trains/
Other Rail Routes You Maybe Interested
Huangshan to Shanghai train, Huangshan to Hangzhou train, Wuyuan Railway Station
Check More Schedule