Wuyuan Railway Station
Wuyuan Railway Station (婺源站) is a train station in Wuyuan County, Shangrao City in Jiangxi Province, serving high speed trains (G and D trains) along the Hefei – Fuzhou High Speed Railway. The station was built in September, 2013 and opened service on June 28, covering an area of 12500 squares with 4 platforms and 10 tracks. This station is linked with Huangshan North Railway Station by high speed trains (13 trains daily), which is 75 kilometers north of Wuyuan Train Station.

Station name: Wuyuan Railway Station (婺源站)
Location: Wuyuan County, Shangrao City, Jiangxi Province (江西省上饶市婺源县, see on OpenStreetMap)
HSR: Hefei – Fuzhou HSR
Local Transportation
Wuyuan Railway Station is about 3 kilometers from central Wuyuan County. Currently, there are public bus 1 and 2 linking Wuyuan Railway Station and central Wuyuan. The bus 1 runs from Wuyuan Couty Cultural Square and ends Wuyuan Railway Station, pasting the Wuyuan Old North Bus Station. The bus 2 goes from Tourism Distributtion Center, pasting Wuyuan Old North Bus Station and ends in Wuyuan Railway Station.
The bus stop lies on the right side of the station's exit.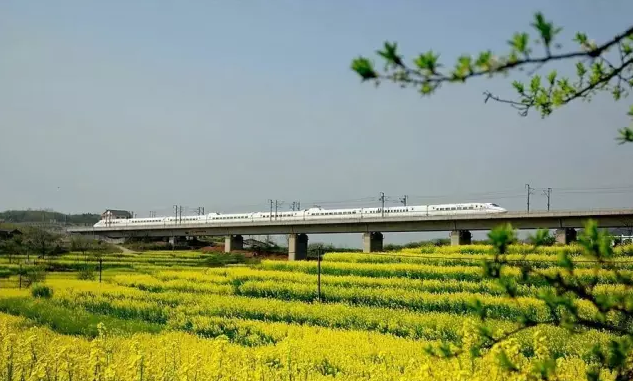 Schedule
The following schedule only shows some major cities that are directly connected with Wuyuan by high speed trains. For more destinations, you can use the link below check live schedule.
Check more for live schedule, just refer to http://www.chinahighlights.com/china-trains/
From Wuyuan to
Price from(CNY)
Duration
Frequency (Daily)
Train Type
Huangshan North
35
22mins
13
G train
Hefei South
175.5
2-2.5h
12
G train
Shangrao
39.5
30m
17
G, D train
Dexing
14
11m
8
G train
Shanghai Hongqiao
181 or 269
3.5-4h
2
G, D train
Hangzhou East
132 or 169
3h
2
G, D train
Wuyishan East
92.5
1h
6
G train
Wuyishan North
76
1h
7
G train
Fuzhou
195.5
2-2.5h
13
G train
Xiamen North
267
4-4.5h
6
G train
Nanchang West
150
2h
2
G train
Changsha South
299.5
4h
1
G train
Beijing South
576.5
7h
4
G train
Guangzhou South
614.5
7h
1
G train
Shenzhen North
418
7h50m
1
G train
Distance: How far is Wuyuan from
The list below explains how far is your destination from Wuyuan:
Shangrao: 150km (by bullet train)
Jingdezhen: 80km (by train or flight)
Huangshan: 75km (by bullet train)
You may also be interested:
Huangshan North Train Station, Shangrao Railway Station, Huangshan to Shanghai, Huangshan to Hangzhou
Trusted Online Ticket Agents:
Option 1: China Highlights is a reliable online agency for China train ticketing. They get positive reviews on TripAdvisor & Trustpilot. Sharon and her team help you buy tickets & plan rail routes even deliver tickets to your hotels with a service fee.

Option 2: Trip.com is an internatioal brand owned by Ctrip Group, China's largest online travel booking platform. Trip.com offers booking service for flight, train, hotel, activities, etc