Huangshan, also known as the Yellow Mountain, is one of the most famous and beautiful mountainous areas in China. It is located in Huangshan City, Anhui Province, about 400 kilometers southwest of Shanghai. It is a UNESCO World Heritage Site and a popular destination for hiking, photography, and cultural exploration.
If you want to travel by train to Huangshan, you need to know that there are three train stations in Huangshan City:

Huangshan North Station (Huangshanbei),
Huangshan Station (Huangshan station)
Huangshan West Station (Huangshanxi, to open in 2024)
Among them, Huangshan North Station and Huangshan West Station are high-speed train stations, while Huangshan Station is a old train station for slow trains. Huangshanxi Station is currently under construction and is expected to open in 2024.
Huangshan North Station is the largest and most convenient train station in Huangshan City. It is also the preferred station for tourists arriving at Huangshan. It is located in Xixi South Town, Huizhou District, about 11 kilometers from the city center, 50 kilometers from Huangshan Scenic Area, and 7 kilometers from Tunxi International Airport. Huangshan North mainly operates high-speed trains, with 108 trains departing every day, connecting Beijing, Shanghai, Hangzhou, Nanjing, Hefei, Suzhou, Qiandaohu, Wuyuan, Jingdezhen, Shenzhen and other cities.
Related page: Shanghai – Huangshan travel by bullet train or bus or Huangshan to Hangzhou Train
Huangshan North – Tangkou by Bus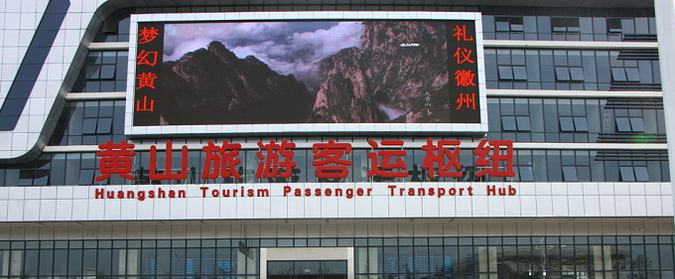 From Huangshan North Station to Tangkou, you can take the bus from the nearby Huangshan Tourism Passenger Transport Hub, which runs from 8:00 to 20:20 every day, every 30 minutes in peak season and every hour in low season, the fare is 23 yuan per person, and the journey takes 50 minutes.
From Tangkou to Huangshan North Station, you can take the bus from Tangkou Transfer Center, which runs from 8:30 to 19:10 every day, the fare is 23 yuan per person, and the journey takes 45 minutes.
Train Timetable & Ticket Fares

Book Online
Check more for live schedule at http://www.chinahighlights.com/china-trains/
From Huangshan North to
Price from (CNY)
Duration
Frequency (Daily)
Train Type
Shanghai Hongqiao
304
4h06m
1
G
Hanagzhou East
231
3h09m
1
G
Beijing South
548.5
5.5-6.5h
8
G
Guangzhou South
646
7h17m
1
G
Shenzhen North
453
8h11m
1
G
Hefei South
140.5
1h50m
26
G
Xian North
664.5
7h57m
1
G
Nanchang West
185
2.5h
2
G
Changsha South
331
4h30m
1
G
Wuyuan
35
21m
16
G
Shangrao
74.5
45-55m
18
G
Wuyishan North
111
1h20m
15
G
Yushan South
90
1h35m
1
G
Fuzhou
230.5
2.5h
15
G
Xiamen North
302
4.5h
7
G
Jinan West
395
4.5-5.5h
11
G
Qingdao
517.5
8.5h
1
G
Zhengzhou East
442
5.5h
2
G
Tianjin West
504
4.5-6h
4
G
Bengbu South
210.5
2.5-3h
14
G
Tourist Bus Service from Huangshan North to Major Scenic Spots
There is a bus station called Huangshan Tourism Passenger Transport Hub (黄山旅游客运枢纽) standing near Huangshan North Railway Station. The bus station offers bus service to a list of tourist deatinations including the Yellow Mountain, Hongcun, Chengkan, etc. When getting off trains at Huangshan North, passengers can follow the indicators in the station's exit to get to the passenger transport hub. The bus station has 6 ticket windows: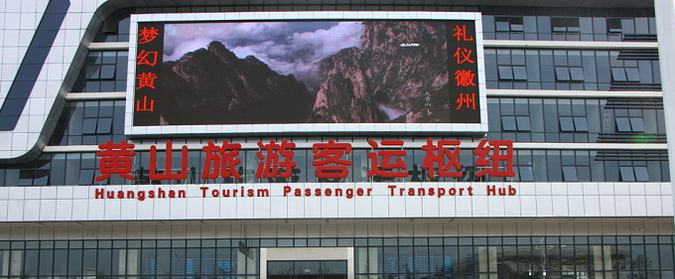 The 1st, 2nd and 3rd ticket windows are for buying tickets to Huangshan Scenic Area, while the 4th ticket window is for buying tickets to all destinations and 5th ticket for buying tickets to Hongcun, Xidi and Qiyunshan, etc.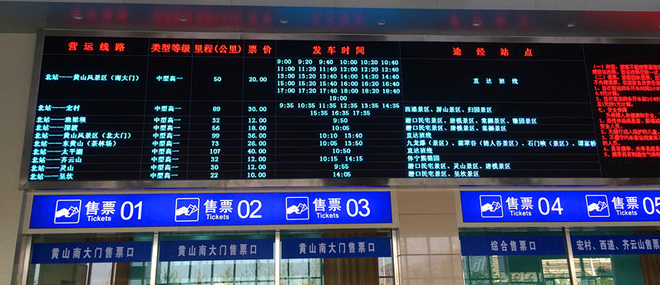 Bus Schedule from Huangshan North (Passenger Transport Hub)

Bus from Huangshan North to
Departures
Distance
Ticket Price
Huangshan Scenic Area South Gate
9:40 12:20 13:20 14:40
15:40 16:20 17:20 18:20 19:20
50km
20
Huangshan Scenic Area North Gate
11:30
99km
50
Huangshan Scenic Area West Gate
8:10
109km
39
Hongcun
9:35 10:35 11:35 12:35 13:35
14:35 15:35 16:35 18:00
89km
30
Chengkan
10:00,13:50
22km
10
Lingshan
8:30
30km
12
Mt Qiyushan
9:35
32km
12
Taiping Lake
8:20
107km
40

All are for reference & subject to changes
Bus ticket fares (one way) from
Huangshan North
:
To Huangshan Scenic Area South Gate (Tangkou 汤口): CNY 20.
To Huangshan Scenic Area North Gate: CNY 36.
To Huangshan Scenic Area West Gate: CNY 39.
To Chengkan Village (呈坎) in Huizhou Distict, Huangshan: CNY 10.
To Hongcun in Yi County (黟县宏村): CNY 30.
To Qinyun Mountain: CNY 12.
To Taiping Lake: CNY 40.
To Lingshan Village in Huizhou District (徽州区灵山古村): CNY 12.
Others Related Pages
Shangrao train station, Wuyuan train station, Huangshan to Fenghuang, Huangshan to Guilin train, Suzhou to Huangshan train
Trusted Online Ticket Agents:
Option 1: China Highlights is a reliable online agency for China train ticketing. They get positive reviews on TripAdvisor & Trustpilot. Sharon and her team help you buy tickets & plan rail routes even deliver tickets to your hotels with a service fee.

Option 2: Trip.com is an internatioal brand owned by Ctrip Group, China's largest online travel booking platform. Trip.com offers booking service for flight, train, hotel, activities, etc