Zhangjiajie – Furong Town Bullet Train
Zhangjiajie – Furongzhen Train Times, Travel Time
Schedule, Ticket Fare & Travel Time
Trains
From – To
Frequency
Duration
Ticket Fares (CNY)
2nd Cls
1st Cls
Biz Cls
G trains
Zhangjiajie West to Furongzhen
7
23m
40
64
141
G trains
Furongzhen to Zhangjiajie West
9
23m
36
58
127
Since the Zhangjiajie – Jishou – Huaihua begun operation on December 6, 2021, it has been possible to travel between Zhangjiajie and Furong Ancient Town by bullet trains. The high speed train links the two places in just 23 minutes, using Zhangjiajie West Railway Station and Furongzhen Railway Station (Furong Ancient Town Train Station).
Basic Facts
Railway Route & Train Station Maps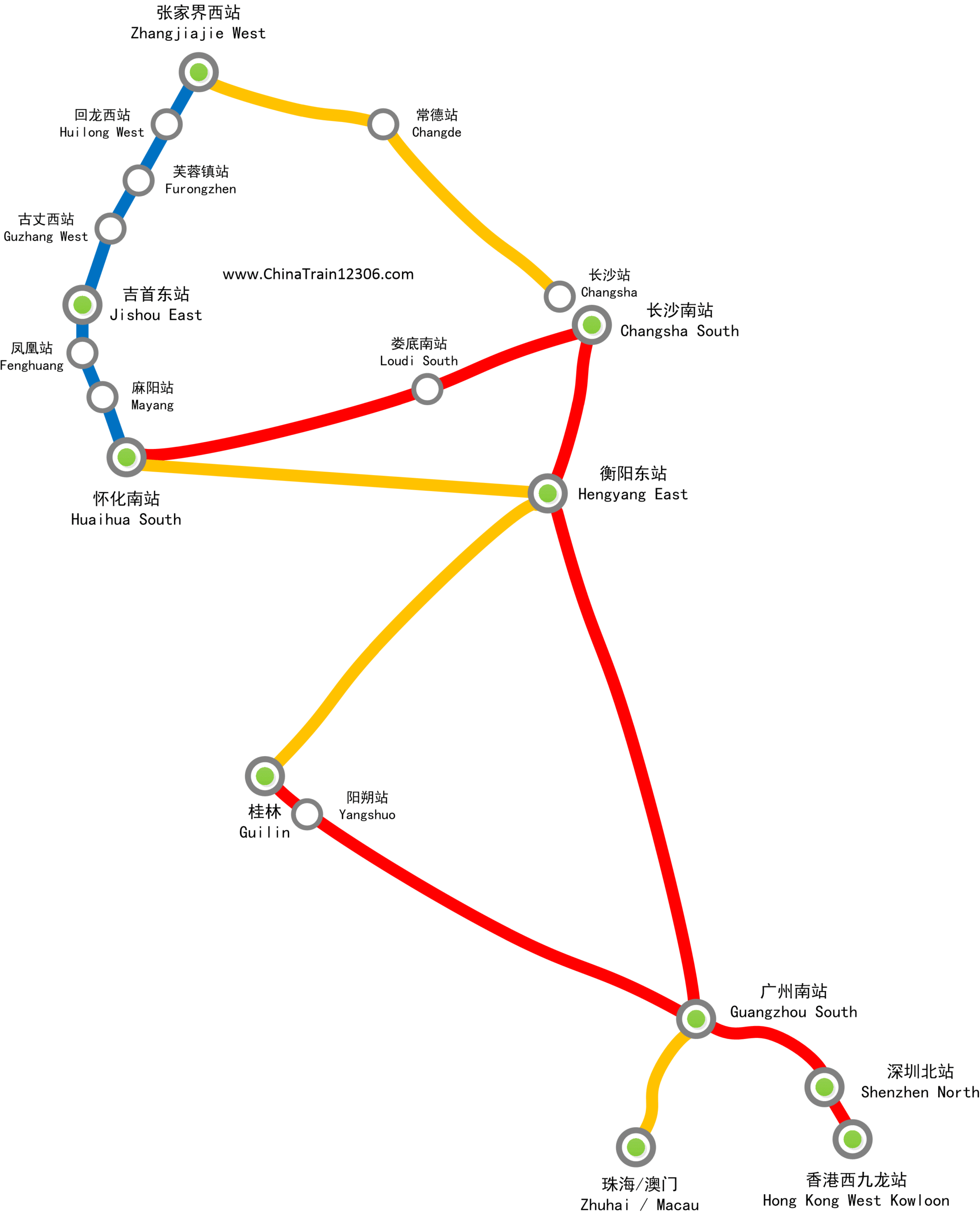 hongkong-guangzhou-guilin-fenghuang-zhangjiajie-rail-map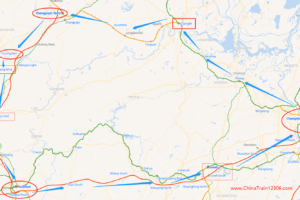 zhangjiajie-furongzhen-fenghuang-changsha-train-map
Ask Jack
Hi there. I am Jack Li, the author of ChinaTrain12306. I used to work for China's largest online tour agency China Highlights for 4 years, where I helped foreign travelers plan rail routes & bought tickets. In 2015, I started this blog to follow my passion. Now I am blogging as a hobby, sharing train travel tips, news and answering questions on Trip Advisor forums. If you have any train travel questions, just send Jack an email.
Stations Along the Route
| | | | | |
| --- | --- | --- | --- | --- |
| Stations | Pinyin | CN Name | | |
| Zhangjiajie West | Zhangjiajiexi | 张家界西站 | | |
| Huilong West | Huilongxi | 回龙西站 | | |
| Furongzhen | Furongzhen | 芙蓉镇站 | | |
| Guzhang West | GuzhangXi | 古丈西站 | | |
| Jishou East | Jishoudong | 吉首东站 | | |
| Fenghuang | Fenghuang | 凤凰站 | | |
| Mayang West | MayangXi | 麻阳西站 | | |
| Huaihua South | HuaihuaNan | 怀化南站 | | |
Zhangjiajie West Railway Station
Zhangjiajie West Railway Station (ZhangjiajieXi) is a newly opened train station north of Zhangjiajie (Zhangjiajie has two train stations for passenger service. The other one is Zhangjiajie Railway Station), with high speed trains to or from Changsha Railway Station Line 2 Line 3 (Changsha to Zhangjiajie by train). There are bus linking Zhangjiajie West with Tianmenshan Forest Park and Wulingyuan Forest Park (see Zhangjiajie West Station to Wulingyuan by bus).
In May of 2020, Zhangjiajie West Railway Station has launched bus services to or from Wulingyuan Bus Station, which is just 1 kilometers from Wulingyuan National Forest Park's entrance gate. The buses departs from Zhangjiajie High Speed Rail Bus Station (next to Zhangjiajie West) and arrive at Wulingyuan Bus Station in just 40 minutes.
Wulingyuan – Zhangjiajie West Train Station Bus Timetable & Travel Time
See Zhangjiajie West Train Station to Wulingyuan Forest Park by bus
Zhangjiajie West – Wulingyuan by bus
From – To
Operation time
Ticket Fares
Duration
Zhangjiajie West – Wulingyuan
06:30 – 18:00
CNY13
40mins
Changsha – Zhangjiajie – Furongzhen – Fenghuang by Rail
Zhangjiajie to Changsha train, Furongzhen to Fenghuang train, Fenghuang to Changsha train

Trusted Online Ticket Agents:
Option 1: China Highlights is a reliable online agency for China train ticketing. They get positive reviews on TripAdvisor & Trustpilot. Sharon and her team help you buy tickets & plan rail routes even deliver tickets to your hotels with a service fee from $6.

Option 2: China DIY Travel is also a trusted online ticketing agent & get recommended for their excellent service on TripAdvisor. Helen & her Australian husband, team are always helpful buying tickets for foreigners. ChinaTrain12306 users can use PROMO CODE "ct123" to reduce booking fees.