Train Stations in Changsha, Hunan
Changsha, the provincal capital city of Hunan Province, has two train stations in service for passengers: Changsha Railway Station for ordinary trains and Changsha South Railway Station for high speed trains. As the transport hub in Hunan, Changsha is connected by fast train or slow train with not only regional cities like Zhangjiajie, Hengyang, Huaihua, Zhuzhou, etc, but also major cities within China including Wuhan, Beijing, Shanghai, Guangzhou, Chengdu, Guiyang, Guilin, etc.
Table of Contents
You maybe interested:
Changsha South Train Station
Changsha South Railway Station (Changsha Nan, or ChangshaNan 长沙南站) was opened in December 26, 2009 and located in Lituo Rd in Yuhua District of Changsha (长沙雨花区黎托街道), serving high speed train service on the Beijing – Guangzhou High Speed Railway and Shanghai – Kunming High Speed Railway. It is serving as a transportation hub of high speed railways, metro line 2 and line 4 (under construction), public bus, maglev and coaches (the Lituo Bus Station). From here, passengers can easily access city centers by metro, bus, and get to Changsha Huanghua International Airport by maglev, and even by coaches to Fenghuang or Zhangjiajie. In addition, Changsha South is linked by high speed trains with most of the major cities in China.
How to Get to Changsha South by Bus, Metro, Maglev
By Public Bus
Passengers can get to Changsha South by the following public service including: Bus 8, 16, 63, 66, 124, 135, 159, 160, 348, 503, etc.
By Metro
The South Railway Station (metro) is serving Changsha South on the metro line 2 and situated at the B1 level of the station. It will also be linked when the metro line 4 starts operation in 2019.
By Maglev
It has been available to travel between Changsha South Railway Station and Changsha Huanghua International Airport using the maglev service since the maglev started operation in May of 2016. See the section Changsha South Station – Huanghua Airport by Maglev
How to Travel between Changsha South Staton & Huanghua Airport
By maglev serice: Passengers can use maglev service to travel from Changsha South Train Station and Changsha Airport, or back. The maglev service with a top speed of 100 km/h opened in May of 2016, enabling passengers to travel the whole journey (Changsha South – Changsha Airport) in 20 minutes, and the cost is about CNY20 per person & operatin time is from 07:00 – 21:00.
| | | | |
| --- | --- | --- | --- |
| Station Name | Chinese Name | Connection | Note |
| Changshanan Station | 磁浮高铁站 | Metro Line 2 | |
| Convention & Exhibition Center | 会展中心 | | Not in operation |
| Langli Station | 磁浮㮾梨 | | |
| Automobile City | 汽车城 | | Not in operation |
| Changsha Huanghua International Airport | 磁浮机场 | | |
Changsha Train Station
Changsha Railway Station (Changsha, 长沙站) is the old train station that serves ordinary trains (K, T, Z type train, non-highspeed) to or from Changsha, as well as intercity train (C type ) to Zhuzhou and Xiangtan. It is located in Furong District of Changsha City, and linked by the Changsha – Zhuzhou – Xiangtan Intercity Railway, Beijing – Guangzhou Railway, etc. From Changsha Railway Station, passengers can take C trains to Zhuzhou South, Xiangtan, and slow trains to Beijing, Guangzhou, Shanghai, Zhangjiajie (Changsha to Zhangjiajie), Zhengzhou, Xian, Chengdu, Kunming, etc.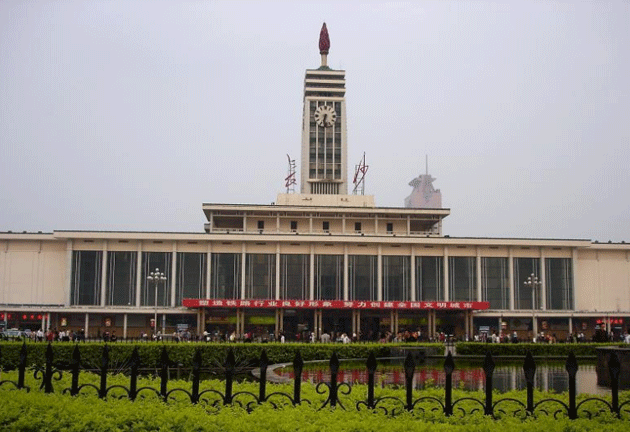 The distance: Changsha Train Station is about 9 kilometers from Changsha South Railway Station, and 25 kilometers from Changsha Huanghua International Airport.
Station name: Changsha Railway Station (长沙站)
Location: Furong District of Changsha (长沙市芙蓉区, See on Google Map)
Transport connection: Metro line 2 & line 3 (under construction)
How to Get to Changsha Train Station
By Metro
Changsha Railway Station is connected by Changsha metro line 2, and served by the subway stop called Railway Station (长沙火车站). Just take line 2 and get off at Railway Station stop.
By Bus
Changsha Railway Station is also well connected by public bus. Passengers can take the following public bus to get there: Bus 101, 103, 112,139, 148, 168, 317, 602, 803, 805, etc.
More Train Routes
Changsha to Hong Kong high speed train
Trusted Online Ticket Agents:
Option 1: China Highlights is a reliable online agency for China train ticketing. They get positive reviews on TripAdvisor & Trustpilot. Sharon and her team help you buy tickets & plan rail routes even deliver tickets to your hotels with a service fee.

Option 2: Trip.com is an internatioal brand owned by Ctrip Group, China's largest online travel booking platform. Trip.com offers booking service for flight, train, hotel, activities, etc