Kunming – Fenghuang Ancient Town
Kunming – Fenghuang via Huaihua by Train
From Kunming to Fenghuang
Trains
From – To
Frequency
Duration
Ticket Fares (CNY)
2nd Cls
1st Cls
Biz Cls
G trains
Step 1: Kunming South to Huaihua South
19
4-4.5h
369
621
1164.5
G trains
Step 2: Huaihua South to Fenghuang
10
30m
42
68
148
From Fenghuang to Kunming
Trains
From – To
Frequency
Duration
Ticket Fares (CNY)
2nd Cls
1st Cls
Biz Cls
G trains
Step 1: Fenghuang to Huaihua South
12
30m
38
61
133
G trains
Step 2: Huaihua South to Kunming South
19
4-4.5h
369
621
702
Fenghuanggucheng Railway Station (sometimes referred as Fenghuang Railway Station or Fenghuang Gucheng) serving Fenghuang County in Hunan Province has begun operation since December 6 of 2021, makeing it possible to travel to or from Fenghuang Ancient Town by bullet train. The station currelty has trains to or from Changsha, Zhangjiajie, Huaihua Soth, Guangzhou, etc. But it yet doesn't serve direct trains to or from Kunming. Passengers have to make a transfer at Huaihua South (Kunming South – Huaihua South – Fenghuang).
Kunming to Fenghuang via Huaihua: Take a high speed train from Kunming South Railway Station (Kunmingnan) to Huaihua South Train Station (Huaihuanan) first, then connect to a high speed train to Fenghuang Railway Station (Fenghuangguuheng). Train travel time and ticket price and frequency are shown above.
Fenghuang to Kunming via Huaihua: Just hop on one of the frequent high speed trains from Fenghuang Railway Station to Huaihua South first, then another connecting train to Kunming South Railway Station. The whole journey takes around 6 hours.
Railway Route & Train Station Maps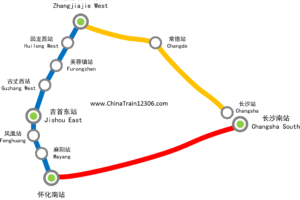 changsha-zhangjiajie-furongzhen-fenghuang-huaihua-rail-map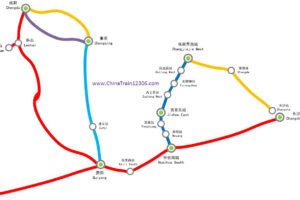 chengdu-chongqing-guiyang-kunming-fenghuang-zhangjiajie-rail
Getting to train stations & airports in Kunming
Ask Jack
Hi there. I am Jack Li, the author of ChinaTrain12306. I used to work for China's largest online tour agency China Highlights for 4 years, where I helped foreign travelers plan rail routes & bought tickets. In 2015, I started this blog to follow my passion. Now I am blogging as a hobby, sharing train travel tips, news and answering questions on Trip Advisor forums. If you have any train travel questions, just send Jack an email.
FAQ – Jack
What is the best way to travel from Fenghuang to Kunming, Flight or Bus ?
Jack: high speed train is the best option.
Is there any direct trains linking Kunming & Fenghuang
As of February of 2022, there is no direct trains running between Fenghuang and Kunming. You need to transfer at Huaihua South.
Onward Train Travel Routes
Fenghuang to Zhangjiajie train, Fenghuang to Changsha train, Fenghuang to Hong Kong train
Trusted Online Ticket Agents:
Option 1: China Highlights is a reliable online agency for China train ticketing. They get positive reviews on TripAdvisor & Trustpilot. Sharon and her team help you buy tickets & plan rail routes even deliver tickets to your hotels with a service fee from $6.

Option 2: China DIY Travel is also a trusted online ticketing agent & get recommended for their excellent service on TripAdvisor. Helen & her Australian husband, team are always helpful buying tickets for foreigners. ChinaTrain12306 users can use PROMO CODE "ct123" to reduce booking fees.