Fenghuang Ancient Town Railway Station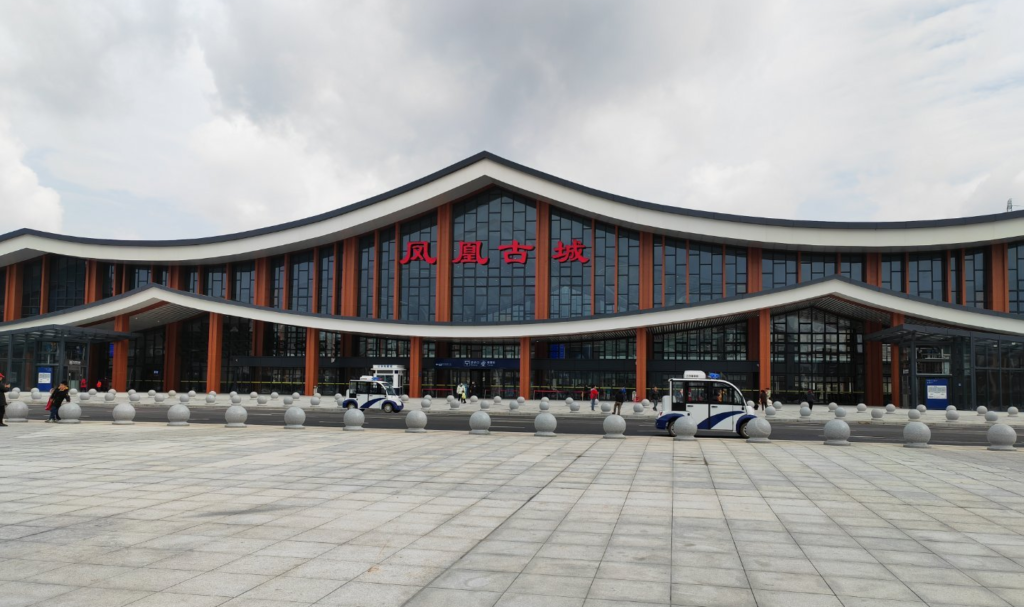 Facts
Station name : Fenghuang Gucheng Railway Station (Chinese name: 凤凰古城站)
Location: Xiangxi, Hunan Province, China
Rail links: Zhangjiajie – Jishou – Huaihua HSR
Plateforms: 6 platforms
Openning date: Dec 6, 2021
Ask Jack
If you have any questions on Fenghuang Railway Station, do ask Jack. I'd love to offer my help. Contact Jack.
High Speed Rail Maps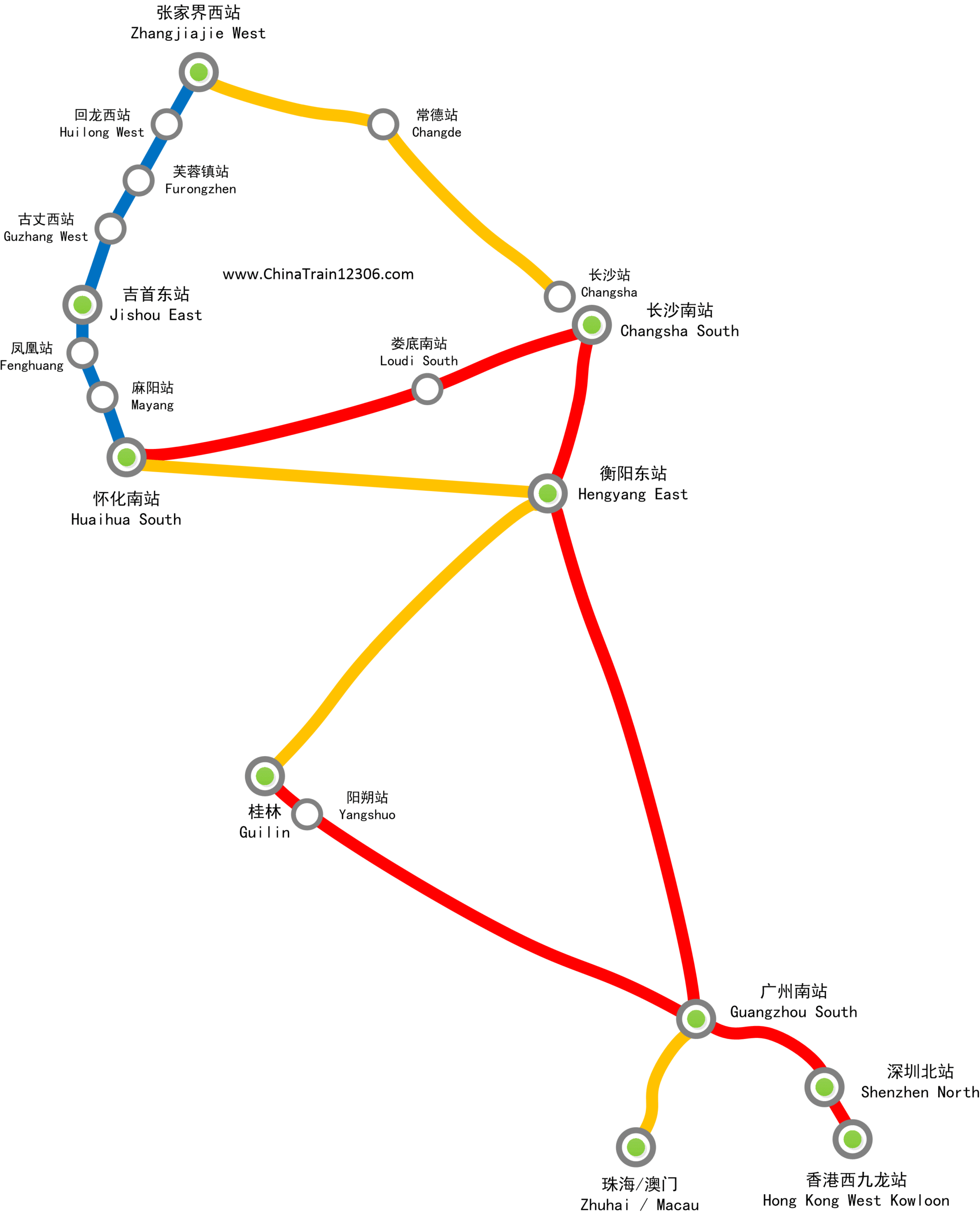 hongkong-guangzhou-guilin-fenghuang-zhangjiajie-rail-map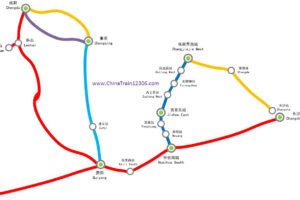 chengdu-chongqing-guiyang-kunming-fenghuang-zhangjiajie-rail
As of December 6 of 2021, there are high speed trains running to Fenghuang Gucheng Railway Station (serving Fenghuang Ancient Town) from Changsha, Zhangjiajie, Furongzhen, Huaihua, Jishou, even from Guangzhou, Shenzhen, Hangzhou, Shanghai, Beijing, Wuhan, Zhengzhou, Shijiazhuang, Nanning, etc.
Fenghuang Gucheng Train Station
Fenghuang Gucheng Railway Station (Fenghuanggucheng) is a railway station that serves Fenghuang Acient Town in Xiangxi, Hunan Province of China. It is a train station on the Zhangjiajie - Jishou - Huaihua High Speed Railway, which is scheduled to open on December 6 of 2021, linking Changsha, Zhangjiajie, Fenghuang, Furongzhen Railway Station, Jishou, Huaihua in just 1 - 2 hours.
Check real time schedule
Fenghuang Gucheng Train Schedule
Bullet Trains to Fenghuang Gucheng
From
Price (CNY )/ 2nd Cls Seat
Duration
Frequency (Daily)
Train Type
Changsha South to Fenghuang Gucheng
175.5
1h55-2h15
9
G train
Zhangjiajie West to Fenghuang Gucheng
75
50m-60m
10
G train
Furongzhen to Fenghuang Gucheng
48
40m
6
G train
Huaihua South to Fenghuang Gucheng
23
30m
12
G train
Guangzhou South to Fenghuang Gucheng
505.5
5h20
3
G train
Shenzhen North to Fenghuang Gucheng
580
6h13
1
G train
Shanghai Hongqiao to Fenghuang Gucheng
645
8h07
1
G train
Beijing West to Fenghuang Gucheng
843.5
7.5-9.5h
2
G train
For a live schedule, just refer to China Highlights or China DIY Travel (Promo code: ct123)
Zhangjiajie - Jishou - Huaihua High Speed Rail
The 246.6 km Zhangjiajie - Jishou - Huaihua high speed railway in Xiangxi, northwest of Hunan Province runs from Zhangjiajie in North to Huaihua in South with 8 stations. The rail will enhance the conectivity between the three famous scenic area: Zhangjiajie - home to the Wulingyuan and Tianmenshan National Forest Park, and Fenghuang, the famous ancient water town, as well as the waterfall town Furongzhen. It will be possible to travel between Zhangjiajie and Fenghuang and Furong Town in just 1 hour.
In future development, the rail will extends southward to Guilin and Yangshuo in Guangxi Province.
| | | | | |
| --- | --- | --- | --- | --- |
| Stations | Pinyin | CN Name | | |
| Zhangjiajie West | Zhangjiajiexi | 张家界西站 | | |
| Huilong West | Huilongxi | 回龙西站 | | |
| Furongzhen | Furongzhen | 芙蓉镇站 | | |
| Guzhang West | GuzhangXi | 古丈西站 | | |
| Jishou East | Jishoudong | 吉首东站 | | |
| Fenghuang | Fenghuang | 凤凰站 | | |
| Mayang West | MayangXi | 麻阳西站 | | |
| Huaihua South | HuaihuaNan | 怀化南站 | | |
FAQ
When will Fenghuang Railway Station be open for service ?
It will probably open in December 6 of 2021.
Is there any Zhangjiajie - Fenghuang trains available?
There will be high speed train running from Zhangjiajie to Fenghuang in July of 2021. See Zhangjiajie to Fenghuang by high speed train.
Reading More
Zhangjiajie to Changsha train, Guangzhou to Fenghuang train, Guangzhou to Zhangjiajie train, Fenghuang to Chengdu train
Trusted Online Ticket Agents:
Option 1: China Highlights is a reliable online agency for China train ticketing. They get positive reviews on TripAdvisor & Trustpilot. Sharon and her team help you buy tickets & plan rail routes even deliver tickets to your hotels with a service fee from $6.

Option 2: China DIY Travel is also a trusted online ticketing agent & get recommended for their excellent service on TripAdvisor. Helen & her Australian husband, team are always helpful buying tickets for foreigners. ChinaTrain12306 users can use PROMO CODE "ct123" to reduce booking fees.