Beijing – Xiong'an Intercity Train
Facts
High Speed Railway & Station Map
Getting to Train Stations & Airports
Ask Jack
If you have any questions on your Beijing – Xiong'an rail travel, do ask Jack. I'd love to offer my help. Contact Jack.
Timetable, Ticket Fares & Duration
Beijingxi – Xiongan Intercity Trains
Trains
From – To
Frequency
Duration
Ticket Fares (CNY)
2nd Cls
1st Cls
Biz Cls
C2701,C2705, C2771, C2709, C2713, C2715, C2773, CC2717, C2721, C2723, C2729
Beijing West to Xiong'an
11
50-70m
68
109
204
C2708, C2710, 2772, C2716, C2720, C2722, C2774, C2724, C2726, C2728, C2730
Xiong'an to Beijing West
11
50-70m
61
98
184
Finally, it comes the Beijing – Xiong'an intercity train. On 27 December, 2020, Xiong'an Train Station opens and introduces high speed train service to or from Beijing West Railway Station (Beijingxi) and Beijing Daxing Airport (Daxingjichang). Thus the Beijing – Xiong'an Intercity Railway fully open. Read more: Beijing – Xiongan intercity railway to star operation on Sunday.
New Beijing – Xiong'an train schedule has been added to 12306 China Railway official website, and it shows that there will be 11 daily bullet trains linking Beijing West Station (beijingxi)and Xiong'an Railway Station (xiongan) and journey time ranges from 50 minutes to 70 minutes. Ticket price is from CNY68 for a second class seat.
From Beijing to Xiong'an: Beijing West Railway Station ( Line 7 Line 9) serves 11 daily high speed trains to Xiong'an Train Station from 06:56 – 21:46, using CR400AF-Fuxing series trains, which is the most-advanced high speed trains, comfortable and affordable.
From Xiong'an to Beijing: Starting December 27 of 2020, the newly-built Xiong'an Train Station operates 11 daily bullet trains to Beijing West Railway Station, passing through Daxing Airport (Beijing's second international Airport).
How to Check Train Times & Buy Tickets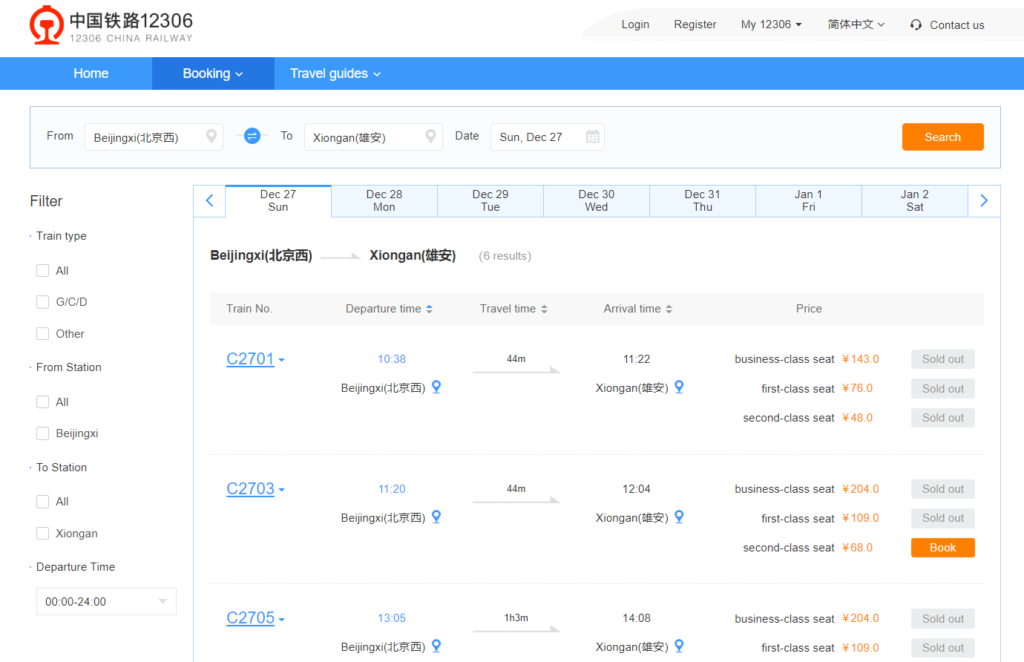 The good news is that the official 12306 China Railway has launched its English version website https://www.12306.cn/en/index.html for checking live train times and buying tickets online without any service fees. Foreigners can use passports to register for an official account and it accepts Visa credit card or some E-payment methods like Alipay or Wechat Pay. The 12306.cn English website has added Beijing – Xiongan trains now.
Beijing – Xiong'an Intercity Railway
No
Station name EN
Chinese Name
Connections
1
Beijing West (BeijingXi)
北京西站

Line 7

Line 9

2
Beijing Daxing
北京大兴
3
Daxing Airport (BeijingJichang)
大兴机场

Daxing Airport Express

4
Gu'an East (Guandong)
固安东站
5
Bazhou North (Bazhoubei)
霸州北站
6
Xiong'an (Xiongan)
雄安站
7
The Beijing – Xiong'an intercity railway runs south from the transport hub Beijing West Railway Station to Xiong'an Railway Station in new area. This intercity railway has been designed for operation at top 350km/h, linking Beijing West, Daxing Airport and Xiong'an New Area.
Other Rail Routes
Beijing to Daxing Airport train, Beijng Daxing Airport to city center, Beijing South Railway Station to Daxing Airport, Daxing Airport to Xiongan train
Trusted Online Ticket Agents:
Option 1: China Highlights is a reliable online agency for China train ticketing. They get positive reviews on TripAdvisor & Trustpilot. Sharon and her team help you buy tickets & plan rail routes even deliver tickets to your hotels with a service fee from $6.

Option 2: China DIY Travel is also a trusted online ticketing agent & get recommended for their excellent service on TripAdvisor. Helen & her Australian husband, team are always helpful buying tickets for foreigners. ChinaTrain12306 users can use PROMO CODE "ct123" to reduce booking fees.