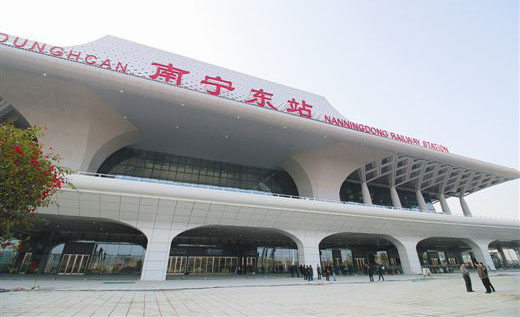 Nanning East Railway Station (or Nanning Dong Railway Station, 南宁东站) is located north of the Fengling North Rd in Qingxiu District, Nanning City (南宁市青秀区凤岭北路北侧) , 10.4 km from Nanning Railway Station in Xingning District and around 40 km from Nanning Wuxu International Airport. The station is put in to use since December 26, 2014, operating high speed (G, D) trains or conventional trains (K, Z) trains to or from Guigang, Wuzhou, Zhaoqing, Foshan, Guangzhou and Shenzhen along the Nanning – Guangzhou High Speed Rail Line, Qinzhou, Beihai and Fangchenggang along the Guangxi Coastal Intercity Rail Line, Liuzhou and Guilin along the Hunan – Guangxi High Speed Railway.
How to Get to Nanning East
By bus
Passengers can take public bus no.7, 28, 29, 37, 82, 83, 94, 209 to get to Nanning East Railway Station.
Note: Allow you plenty of time in case of missing your train. You'd better to arrive at the station and get your tickets collected at least 30 minutes ahead of your train's depature.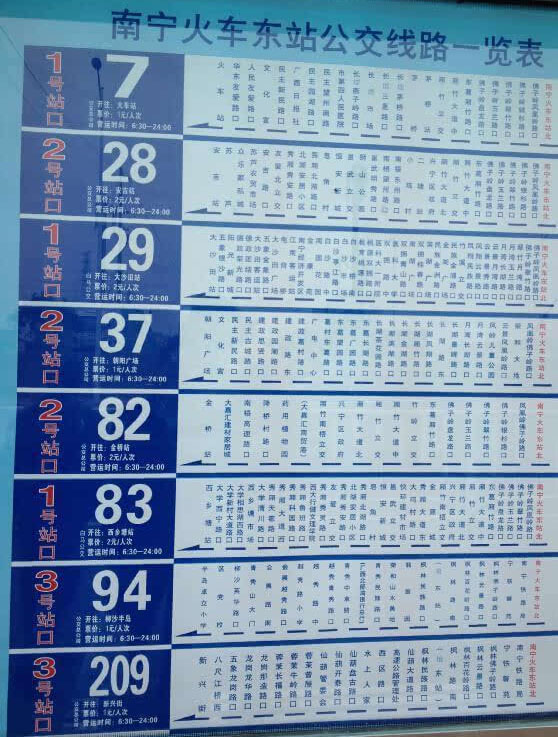 By metro
Nanning Rail Trainsit is sill under construcion now, and it is estimated to be completed and start operation in 2016 when you can take the metro line 1 to get to Nanning East Railway Station. I will update the information latter when the metro start its service.
Nanning East to Airport by Airport Shuttle Bus
The airport shuttle bus service for Nanning East – Nanning Wuxu Airport via Nanning Wharton has been opened since October 18, 2015, and the operation time is from 11:00 am to 20:00 pm and it departs every one hour. Passengers can take a special bus line in the south squre from Nanning East to Nanning Wharton City Terminal (南宁沃顿城市候机楼) first, then switch to airport shuttle bus in Nanning Wharton to the Terminal 2 of Nanning Wuxu International Airport (CNY 20 per person).
From Nanning East to Nanning Railway Station
Nanning Railway Station (南宁站) is located in Zhonghua Rd, in Xingning District, more than 10 km from Nanning East (南宁东站). Passengers can go to Nanning Station from Nanning East by train, bus, taxi or metro (still under construction) in the future.
By Train
The following fast trains goes from Nanning East to Nanning Station, just catch one if it suits your time. (Note: the schedule is for reference only, and you can search the most up-to-date timetable for trains between these 2 station at http://www.chinahighlights.com/china-trains/). It takes 11 minutes and costs CNY 5.5 for a second class seat and CNY 7 for a first class seat.
Nanning East to Nanning Station (Update: Dec 8, 2015)
| | | |
| --- | --- | --- |
| Train Numbers | Dept – Arri | Duration |
| D8247 | 07:59 – 08:10 | 11m |
| D8261 | | |
| D8312 | 15:14 – 15:26 | 12m |
| D9635 | 15:37 – 15:48 | 11m |
| D3612 | 16:20 – 16:32 | 12m |
| D8221 | | |
For a live schedule for train from Nanning East to Nanning, just enter "Nanning Dong" as the departure station and enter "Nanning" as the arrival station on http://www.chinahighlights.com/china-trains/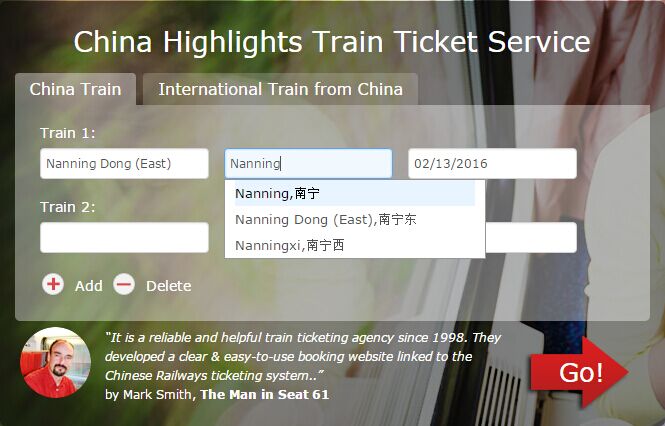 By Bus
Passengers can take Bus k3, 7 to get to Nanning Station. The journey time is 1 hour 10 minutes to 1 hour 30 minutes.
By Taxi
Taking a taxi would be the most convenient way. It will cost you 30 – 60 yuan and the travel time is around 30-45 minutes (Just for reference).
Nanning East Train Schedule to Major Destinations
The train timetable below is updated mannually, and if you want to check more live schedule for Nanning East, I advise you to check at China Highlights
Destination
Train Nos.
Duration Time
Ticket Price (CNY)
First Class
Second Class
Guilin / Guilin North
G424, D8210, G432…
24 G/D trains from 08:00 to 20:35
2h20m – 2h40m
129.5
108
Liuzhou
G1502, D8234, D8210…
25 trains from 6:54 to 22:09
1h20m
74.5
62
Guangzhou South
G2913, D201, D3609…
36 G/D trains from 07:00 – 19:20
3h20m – 4h10m
202.5
169
Shenzhen North
G2913, G2911
4h40m
302
243.5
Changsha South
G434,G503, G1504…
7 G trains from 07:30 – 15:45
5h46m – 6h28m
380
289.5
Related Rail Travel Guide
Nanning to Yangshuo; Nanning to Kunming, Nanning to Hanoi
Live Train Times
Trusted Online Ticket Agents:
Option 1: China Highlights is a reliable online agency for China train ticketing. They get positive reviews on TripAdvisor & Trustpilot. Sharon and her team help you buy tickets & plan rail routes even deliver tickets to your hotels with a service fee from $6.

Option 2: China DIY Travel is also a trusted online ticketing agent & get recommended for their excellent service on TripAdvisor. Helen & her Australian husband, team are always helpful buying tickets for foreigners. ChinaTrain12306 users can use PROMO CODE "ct123" to reduce booking fees.