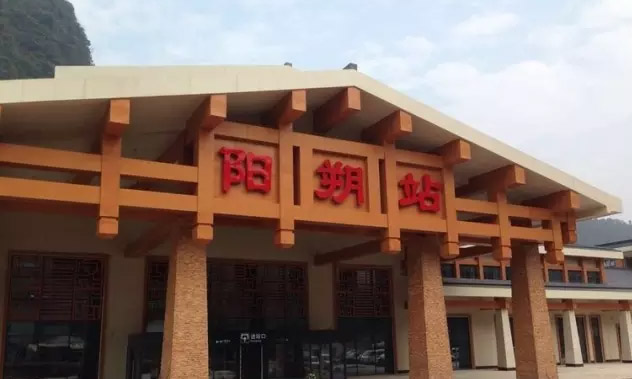 Yangshuo Railway Station Guilin (阳朔站, or 阳朔火车站) is located in Fanzengshan Village, Xingping Town, Yangshuo County, Guilin in Guangxi Province (阳朔县兴坪镇饭甑山村), 22 km from Yangshuo's downtown and 6.5 km east of Xingping Town. It began construction in early 2014, and started operation on January 25, 2016. The Yangshuo Railway Station is the third largest station along the Guiyang – Guangzhou High Speed Railway, only next to Guiyang North and Guangzhou South.
Yangshuo Railway Station is a 15-minute bus ride from Xingping Town & 40-50 minutes bus ride from Yangshuo town.


Yangshuo Railway Station on Guiyang – Guangzhou HSR
How to Get from Yangshuo Railway Station to West Street
When you arrive at Yangshuo Railway Station by a train, just get out of the train station then look for the bus ticket office, which is located at the left side of the station exit. You can buy a bus ticket to Yangshuo (CNY 20), Fuli Town (CNY 15), or Xingping (CNY 5) and check the bus schedule at the bus ticket office, then board your bus (blue) with the ticket. Don't miss it, or you'll have to wait for a long time for the next bus. The bus will take you to Yangshuo High-speed Rail Passenger Bus Station (阳朔高铁汽车客运站, a bus statiion at Yangshuo town) in 45 minutes, from where you need to change to another bus (green) to get to the West Stree (CNY 1, 5 – 7 minutes).
Local Transport
Bus service between Yangshuo Town and Yangshuo Railway Station  has been available. Passengers can take a bus (the bule bus) from the bus stop at Yangshuo Railway Station to get to Yangshuo High-speed Rail Passenger Bus Station (阳朔高铁汽车客运站, a bus station dedicated for bus service linking Yangshuo Railway Station), costing CNY 20 per person and taking 40 – 45 minutes, then another bus (green bus) to Yangshuo's town center (West Street), about 5 – 8 minutes ride and cost CNY 1 per person.
If you want to get to Yangshuo Railway Station from Yangshuo town, you can take a green bus to Gaotie Zhuanxie Chezhan (高铁专线车站, CNY 1) first, then take the dedicated bus (blue) to Yangshuo Railway Station (45 minutes, CNY 20).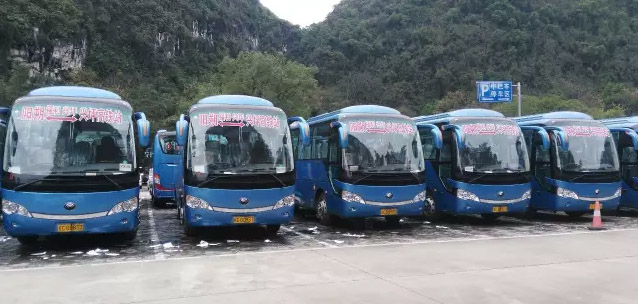 Train Timetable for Yangshuo Station
Yangshuo Railway Station has been opened officially on January 25, 2016, and the train timetable has just been released on 12306.cn. It operates high speed trains (D category) to or from Guilin, Nanning, Guangzhou South, Guiyang North, and Hezhou, etc. See details below:
Travel time between Guilin and Yangshuo by D train is 30 minutes to 50 minutes, and train ticket price is CNY 20.5 for a second class seat and CNY 25 for a first class seat.
From 
To
Train 
Duration
Ticket Price
Yangshuo
Nanning East
D8232
3h32m
from CNY 130.5
Yangshuo
Liuzhou
D8232
2h07m
from CNY 68.5
Yangshuo
Guilin
D8232
52m
from CNY 26
Yangshuo
Guilin West
D2806, D2810,D2812…
28m
from CNY 20
Yangshuo
Guilin North
D2970, D2974,D2980
30m
from CNY 20.5
Yangshuo
Hezhou
D2997, D2809,D2811…
36 – 50m
from CNY 36.5
Yangshuo
Guangzhou South
D2997, D2809,D2975…
2 – 2.5h
from CNY 117
Yangshuo
Guangzhou
D2997
2h19m
from CNY 127
Yangshuo
Sanjiang South
D2828
1h09m
from CNY 47
Yangshuo
Congjiang
D2810,D2812,D2828…
1h23m
from CNY 63
Yangshuo
Guiyang North
D2806,D2812,D2830…
3h25m
from CNY 150.5
Yangshuo
Gongcheng
D2809,D2811,D8235…
13m
from CNY 10.5
Yangshuo
Duyun East
D2812,D2830
2h14m
from CNY 111.5
Trains
From – To
Dept – Arri
Duration
Ticket Fares (CNY)
1st Cls
2nd Cls
Biz Cls
D8231
Guilin North – Yangshuo
12:17 – 12:50
33m
25
20.5
–
D8244
Guilin – Yangshuo
20:41 – 00:52
52m
32
26
–
Trains
From – To
Dept – Arri
Duration
Ticket Fares (CNY)
1st Cls
2nd Cls
Biz Cls
D8232
Yangshuo – Guilin
09:03 – 09:54
51m
32
26
–
Yangshuo – Naning Train
Trains
From – To
Dept – Arri
Duration
Ticket Fares (CNY)
1st Cls
2nd Cls
Biz Cls
D8234
Nanning East – Yangshuo
09:30 – 12:50
3h20m
157
130.5
–
D8244
Nanning East – Yangshuo
18:15 – 21:33
3h18m
157
130.5
–
Trains
From – To
Dept – Arri
Duration
Ticket Fares (CNY)
1st Cls
2nd Cls
Biz Cls
D8232
Yangshuo -Nanning East
09:03 – 12:24
3h21m
157
130.5
–
Travel from Yangshuo by Train
Yangshuo to Hanoi by Train
No direct trains connecting Yangshuo with Hanoi (in Vietnam) directly, and you will have to make a connection at Nanning. You have two routes for option: 1. Yangshuo – Nanning East – Nanning Station – Hanoi (Gia Lam); 2. Yangshuo – Guilin North – Nanning – Hanoi (Gia Lam). You can read more about the trains from Nanning to Hanoi.
Trusted Online Ticket Agents:
Option 1: China Highlights is a reliable online agency for China train ticketing. They get positive reviews on TripAdvisor & Trustpilot. Sharon and her team help you buy tickets & plan rail routes even deliver tickets to your hotels with a service fee from $6.

Option 2: China DIY Travel is also a trusted online ticketing agent & get recommended for their excellent service on TripAdvisor. Helen & her Australian husband, team are always helpful buying tickets for foreigners. ChinaTrain12306 users can use PROMO CODE "ct123" to reduce booking fees.