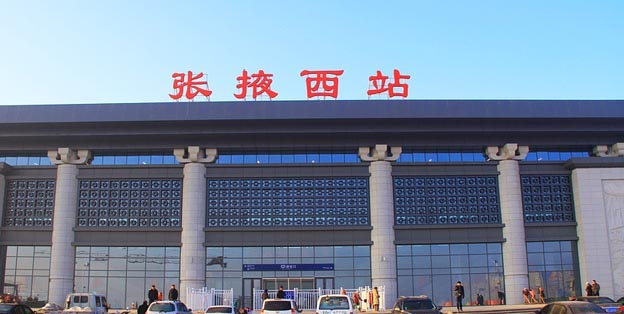 Zhangye West Railway Station (or Zhangye Xi Train Station, 张掖西站), located in Ganzhou District, Zhangye City, Gansu Province (甘肃省张掖市甘州区), is one of the two train stations in Zhangye City (the other one being Zhangye Railway Station, 张掖站 in Chinese). Zhangye West Railway Station is mainly operating D trains (high speed) along the Lanzhou – Xinjiang High Speed Railway (兰新高铁线, hig speed rail), while Zhangye Railway Station is mainly handling the K, T, Z trains (conventional train) along the Lanzhou – Xinjiang Railway (conventional railway). The station is opened on December 26, 2014 and has 3 platforms.
Station Address: West Three Ring Rd and Minle Rd (西三环路与民乐路).
Arriving at Zhangye by Train
Travelers can take D trains from Lanzhou West, Xinning, Jiuquan South, Jiayuguan South, Yumen, Hami, Turpan North, Urumqi South, etc to get to Zhangye City (via Zhangye West).
Local Transportation to Zhangye West
Passengers can take bus 22 to get to Zhangye West. The new route for bus 22 in Zhangye was put into use from December 22, 2014.
Service time: 7:20 – 18:20. Price: CNY 1
Bus 22 (Zhangye West 张掖西站 – International Business and Trade City 新张掖国际商贸城), around 19 stops.
From Zhangye West to Major Attractions
To Giant Buddha Temple (张掖大佛寺)
The Giant Buddha Temple is located in Giant Buddha Temple Alley, Minzhu West Street, Ganzhou District (甘州区民主西街大佛寺巷). Travelers can take a taxi from Zhangye West to the temple and it will cost you CNY 8 (for reference). Also, the temple can be reach by bus 1, 11, and 13 at the Dafosi Square (大佛寺文化广场). 
To Danxia Geological Park, the rainbow mountains (丹霞地质公园)
Passengers can hire a taxi driver to the park and back, but the local taxi driver may charge you high fees (CNY 200). Alternatively, you can take a bus (CNY 1) to get to Zhangye West Bus Station (张掖市汽车西站) in West Ring Rd first, from where there are public bus bringing you to the geopark within 1 hour and cost you CNY 10. All the travel advice can been seen on Jesscia's article China's Rainbow Mountains – Danxia Geopark.
Train Schedule from Zhangye West to Major Cities
Zhangye West Railway Station handles passenger service along the Lanzhou – Xinjiang HSR. From here, travelers can take to Lanzhou West, Urumqi, Turpan, Hami, Jiayuguan, Xining, etc.
For more train schedule from Zhangye West, just try China Highlights. (Schedule below updated December 11, 2015)
Destination
Train Nos.
Duration Time
Ticket Price (CNY)
First Class
Second Class
Zhangye to Lanzhou
D2754, D2706, etc
3h
179.5
149.5
Zhangye to Xining
D2706, D2716, etc
1h40m – 2h
110
91.5
Zhangye to Jiayuguan
D2741, D2751, etc
1h30m
78.5
65.5
Yumen
D2703, D2705, etc
2-4h
125
104.5
Urumqi South
D2701, D2705, etc
8-20h
478.5
398.5
Turpan North
D2701, D2703, etc
7h20m
420
350
Hami
D2703, D2705, etc
4h50m
282
235