You have two choices to check depending on whether you have the ability of reading Chinese:
1. Using a third-party website: If you don't read Chinese, you can use a third-party website that offers English version China train schedule. The most popular and reliable ones I have ever seen are below:
2. Using the official 12306 site: If you read Chinese, you may use the official site www.12306.cn for checking, which is 100% live schedule and accurate. But what if checking on 12306 without the ability of reading Chinese? Just read my tutorial below.
Which Third-Party Site Is More Accurate Regarding Schedule, Ticket Fares & Availability?
The third-party websites I mentioned above are more reliable and accurate and pupular within some online travel fourms compared to others sites, and most of the information they provide are accurate and most up-to-date, but none of them is 100% accurate because only the official site 12306 is 100% accurate and up-to-date. I used to work for China Highlights and known exactly how a third-party site works with the Chinese train schedule. The third-party only takes the information from 12306.
So, how accurate & up-to-date is a third-party website depends on how often they update their data base manually from the official 12306 . The more often they update the data base, the more accurate their schedule is.
English Tutorial: Using 12306 to Check
As what I've explained above, most of the third-party site's information are reliable, but I will still teach you how to use the official 12306 site to check live Chinese train timetable, ticket availability and cost with my poor English. Just see the illustration and tutorial and follow the steps below.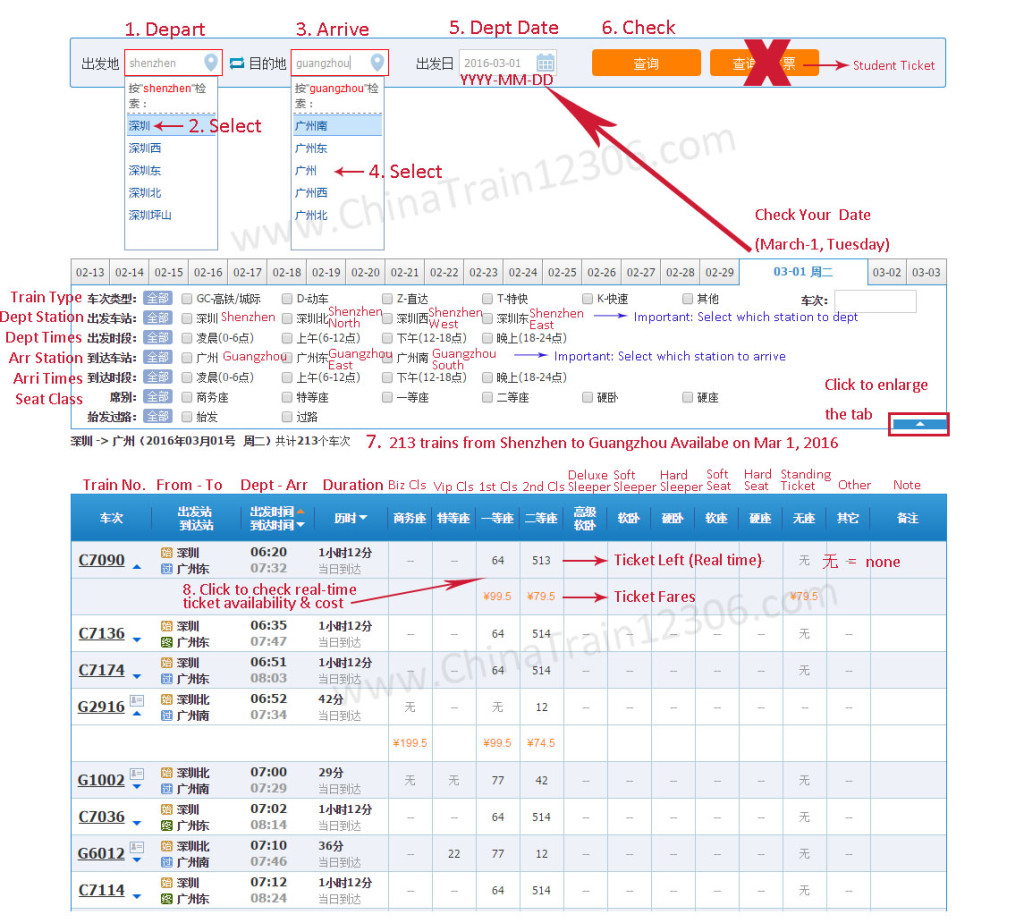 To begin with this tutorial, just go to https://kyfw.12306.cn/otn/lcxxcx/init first, the official page for checking live train times, ticket fares and left tickets on 12306, then follow the steps below and refer to the instruction picture.
Step 1: Enter Your Departure
Enter a departure city name (eg: Shenzhen) or a departure station name (ShenzhenBei) in English (Chinese Pinyin) in the depart section.
But no matter whether you enter a city name or a station name, the 12306 site will always give you all the train service available from Shenzhen. You can filter the result by selecting a depature station then.
Enter Eg: Shenzhen (city name – 深圳), ShenzhenBei (station name – 深圳北 namely ShenzhenNorth).
Note: Entering a city name can deal with most of the cases but there are exceptions like Futian (福田), a newly opened station in Shenzhen would not show up at the dropdown when you enter "Shenzhen" because unlike ShenzhenBei, ShenzhenXi, and ShenzhenDong, Futian doesn't use "Shenzhen" as a prefix in its name.
So, the most reliable way is to enter a station name (Chinese Pinyin) if you are familiar with the station's name.
More Chinese character for the names of major stations here: Stations in Beijing, Shanghai, Guangzhou, Shenzhen, etc.
Step 2: Select a Depart Station in the Dropdown
Just select a station's name at the dropdown.
Step 3: Enter Your Arrival
See the same case with step1 (eg: Guangzhou or GuangzhouDong).
Step 4: Select an Arrival Station in the Dropdown
Step 5: Choose Your Depart Date
The date form uses YYYY-MM-DD (2016-03-01, March 1, 2016).
Step 6: Click to Check
Click the icon named "查询" to check.
Step 7: See the Train Service Result
After clicking check, it will give you all the train serivce available from Shenzhen to Guangzhou on a city-to-city base, not a station-staion base. You can use the Dept Station (出发车站) or Arr Station (到达车站) to filter the train results.
In the case, there are 213 trains from Shenzhen to Guangzhou available on March 1, 2016.
Step 8: Check the Live Schedule, Ticket Availability & Cost
Finally, you get all the information you need including the train schedule, train numbers, dept & arr station, time, duration, ticket availability. Remember to click to make the ticket fares for various seat types or sleeper types to show up.
Chinese Character (Pinyin) for Major Station's Name
You can copy the following station's name, then enter on 12306 to check your live schedule.
Major Stations in Beijing
Beijing South Railway Station = BeijingNan (北京南)
Beijing West Railway Station = BeijingXi (北京西)
Beijing North Railway Station = BeijingBei (北京北)
Beijing East Railway Station = BeijingDong (北京东)
Beijing Main Railway Station or Beijing Railway Station = Beijing (北京)
Major Stations in Shanghai
Shanghai South Railway Station = ShanghaiNan (上海南)
Shanghai Hongqiao Railway Station = ShanghaiHongqiao (上海虹桥)
Shanghai West Railway Station = BeijingDong (上海西)
Shanghai Main Railway Station or Shanghai Railway Station = Shanghai (上海)
Major Stations in Guangzhou
Guangzhou South Railway Station = GuangzhouNan (广州南)
Guangzhou West Railway Station = GuangzhouXi (广州西)
Guangzhou North Railway Station = GuangzhouBei (广州北)
Guangzhou East Railway Station = GuangzhouDong (广州东)
Guangzhou Main Railway Station or Guangzhou Railway Station = Guangzhou (广州)
Major Stations in Shenzhen
Futian Railway Station = Futian (福田)
Shenzhen West Railway Station = ShenzhenXi (深圳西)
Shenzhen North Railway Station = ShenzhenBei (深圳北)
Shenzhen East Railway Station = ShenzhenDong (深圳东)
Shenzhen Main Railway Station or Shenzhen Railway Station = Shenzhen (深圳)